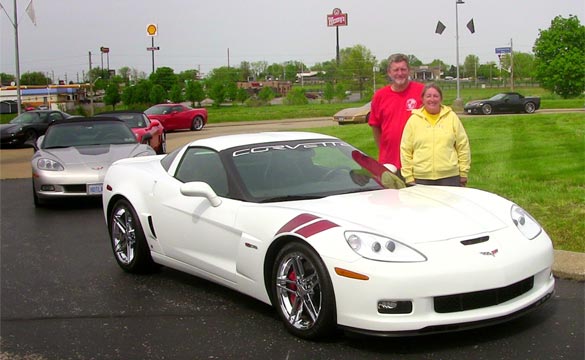 Photo Credit:
National Corvette Museum
The National Corvette Museum's supply of vehicles has grown by one as Randy Pierce and Charla Heintz donated their 2007 Ron Fellows Edition Corvette Z06. The pair have volunteered at the museum for years often spending a week at a time offering help wherever it's needed. Many times they'll be tending to the Corvette Store, but Randy also helps by picking up large donated items from around the country and delivering them to the museum.
"I got to know Randy and Charla when they started volunteering at the Museum," said Betty Hardison, Library & Archives Coordinator. "That was probably 10-15 years ago. There's no telling how many hours they spend here. They come at least 6-8 times a year for a week at a time just to volunteer."
Pierce's and Heintz's commitment to the museum goes well beyond just volunteering their time. They are Lifetime Members, have provided cars for display, they are in the Duntov Society, and have participated in R8C Museum Deliveries. The even have Walk of Fame bricks.
It was in January of this year when Randy and Charla told Betty Hardison that they'd be donating their 2007 Ron Fellows Edition Z06 Corvette to the Museum during the 2015 Bash.
"I figured because this one is such a unique car, it's a numbered car… we might as well donate it now and get some fun out of it being down there," Randy said. "It's probably the only one of that edition to be donated to the Museum, and we will get more pleasure out of it being down at the Museum."
The Ron Fellows Special Edition Z06 honored the legendary Canadian-born road racer and Corvette Hall of Famer. It was the first signed limited edition in Corvette history. Each car wore Arctic White paint with Monterey Red front fender stripes. It marked the first time that the C6 Z06 had been offered in white. Other distinguishing exterior cues were a full-width spoiler and unique windshield banner. In all, 399 were built, which included 300 cars for the U.S., 33 for Canada, and 66 for other markets.
Next time you're at the NCM keep an eye out for Randy and Charla's Z06. If you happen to see them working while you're there, be sure to thank them for all of their hard work at the museum as well as their generous donation.

Source:
National Corvette Museum

Related:
Ivan and Mary Schrodt Donate Five Corvettes to the National Corvette Museum
2007 Corvette Z06 Donated to the National Corvette Museum
Massachusetts Man Donates 1974 Corvette He's Owned Since New to the Corvette Museum