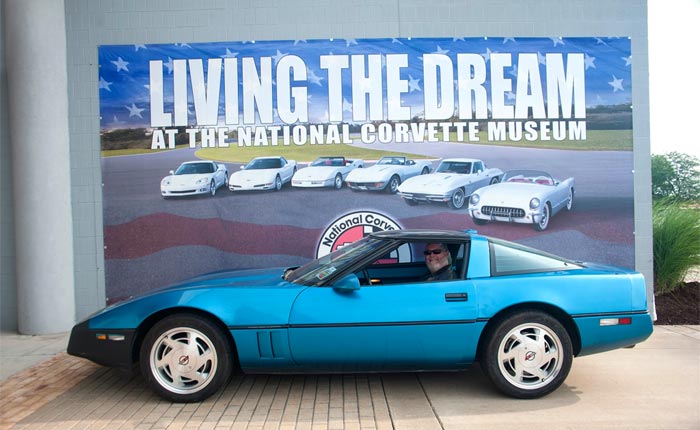 The National Corvette Museum continues to be the recipient of kind-hearted donations by enthusiasts.
The latest is a 1989 Medium Blue Metallic Corvette that was bought new by Jim Dodrill in Oklahoma City.
Many good times followed in the Corvette with Jim and his younger brother, Ike, a Lifetime Museum Member.
"We took many trips in that car… to Bloomington Gold, it's been driven in the Caravan, and several times to the Lone Star Corvette Club event at the Texas Motor Speedway," Ike recalled.
Sadly, Jim passed away suddenly from a massive heart attack in 2009. Eventually, Jim's widow, Sandra, decided the old Corvette would make a good vehicle for their son James to drive.
Ike helped get the car running again, but James eventually switched to driving a truck after the Corvette became a little unreliable.
Sandra thought about trading in the Corvette and the truck for something newer, but Ike had a different idea.
"I asked if I could buy the car, get it running and then donate it to the Museum in memory of Jim. The car had 28,000 miles on it," Ike said. "They discussed it and decided it was the best thing to do."
Ike didn't want to donate a pile of troubles to the Museum, so he went all out on the repairs.
Ike did a great job, rebuilding the headlight motors and alternator, replacing the fuel pump/sender unit and fuel injectors, cleaning the throttle body, replacing the top, changing out plugs, wires, ignition system, and coil cap, and giving it a basic tuneup, a new battery, and new tires.
"I essentially tried to make it as reliable of a car as we could with the hope that the Museum would be able to use it for any kind of parades, track events, VIP events, anything like that," Ike said. "My hope is that you guys will have some wonderful times with the car, too."
Ike believes his brother is excited about having his car given to the Museum.
"I think he's up there smiling right now, looking down on us," Ike said. "I think he's very pleased. I am. I think this is a wonderful thing that we can do for the Museum and I hope that more and more people are able to do the same thing."

Source:
National Corvette Museum

Related:
National Corvette Museum Receives Two Corvettes as Donation Gift
Couple Donates 2007 Ron Fellows Edition Corvette Z06 to the National Corvette Museum
Ivan and Mary Schrodt Donate Five Corvettes to the National Corvette Museum