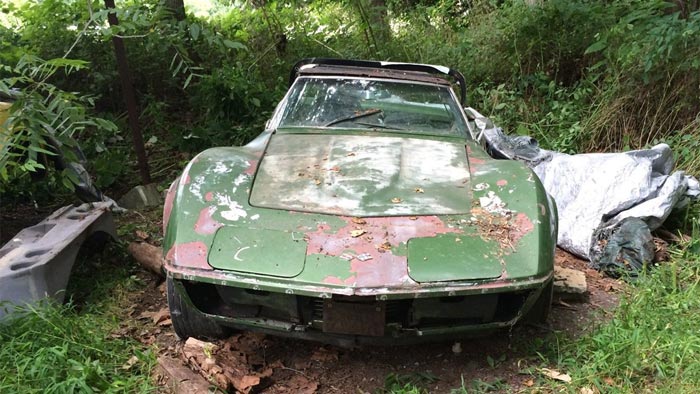 Barn finds and field cars.
It's always seemed to me that when looking at pictures of a barn find Corvette, no matter what the condition, there is an emotion that feels almost magical. The sight of a Corvette sitting outside in a field where it's at the mercy of the elements brings up feelings that are exactly opposite.
Seeing a Corvette rotting away in a field or backyard is just sad. But thanks to eBay, there is hope that these Corvettes might get another chance.
We're hoping this 1972 Corvette field car that recently sold on eBay falls into that category.
The seller says that he had hoped to get to work on restoring the green convertible, but a change in jobs that forces him to relocate every couple years means that he had to part with the car.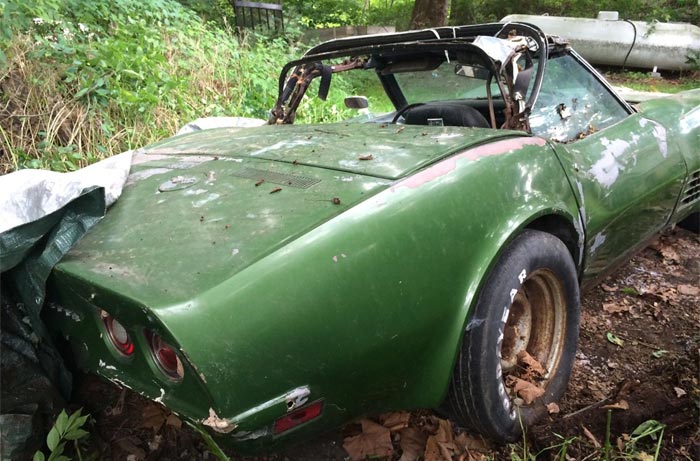 Advertised as a 1971 Corvette, the VIN shows its a 1972 with the base 350 ci/200 hp V8. That engine is still in the car which probably helped the sale but the owner advises that a new frame will be needed as the current one is in "bad shape".
Parked in a field in Pennsylvania, not far from Carlisle according to the seller, the car was open to the elements as you can see the debris sitting inside the cockpit.
The auction ended on Monday afternoon at a price under $4,000. Considering a new frame will be needed, we feel the price is fair for the condition. Check out these pics and tell me if you feel the same way about the sight of a Corvette languishing away in a field.

No doubt that the new owner has his work cut out for him, but as we always say, with time and money, any car can be restored.

Source:
eBay

Related:
Corvettes on eBay: Barn Find 1960 Corvette Would Make a Great Project Car
1981 Corvette Barn Find is Worth only $900 as a Parts Car
This Barn Find 1954 Corvette Parked 51 Years Ago Sells for $52,000