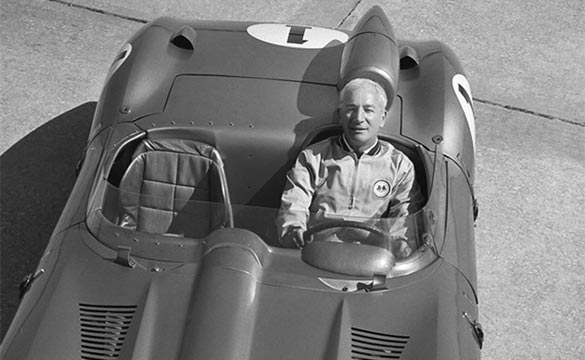 Has General Motors got something in the works to pay homage to Corvette's first Chief Engineer Zora Arkus-Duntov? Earlier this month, the automaker filed a trademark application for "Zora" under the category of "Vehicles and Products for locomotion by land, air or water". Could a future special or namesake edition Corvette be in the works?
Zora's name is almost synonymous with early Corvette performance. Joining Chevrolet Engineering in 1953 as an assistant staff engineer, Zora quickly rose through the ranks to become the chief engineer of the Corvette, a post he held until his retirement in 1975. Zora's custom Duntov cam helped early Corvettes achieve speed records and from there you can tick off a long list of achievements including the introduction of the Rochester fuel injection system, independent rear suspension as well as preparing factory Corvettes for the race track.
Of course, one of the programs most identified with Zora were the original five 1963 Grand Sport racers. Before the ultralight cars were able to really show what they could do, the corporate heads found out and as the company had a ban on corporate racing, the program was halted. Zora arranged for several racing teams to take the cars racing and today these are some of the most collectible Corvettes on the planet.
Zora also had a thing for mid-engine designs and never gave up with the idea of creating a mid-engine Corvette. Now I doubt that GM will be created a special mid-engine edition Corvette during the C7 generation, but we can dream, right?
Since we've been around, we've seen several patents from GM come to fruition. Recent applications that have come true include Stingray and ZR1. The Stingray name was applied for in 2010 – three years before the introduction of the C7 Corvette. The ZR1 name was trademarked in 2007 – two years before the introduction of the C6 Corvette ZR1.
As an aside, the ZR in ZR1 has been commonly attributed as meaning "Zora Racer 1" when it first debuted as an RPO in 1970.
Recent patents that have been filed include the LTX and LT5 engine names, L88 and Turbo-Jet.
Now that General Motors has acted to protect the "Zora" name, let's hope that any namesake badged Corvette is as special as the man himself.

Source:
GM Authority

Related:
GM Trademarks LT5 and LTX Engine Names
GM Granted Trademark Approval for the Legendary Corvette Engine RPO Code L88
GM Files Trademark Paperwork for 'Turbo-Jet'
GM Trademarks the 'Stingray' Name