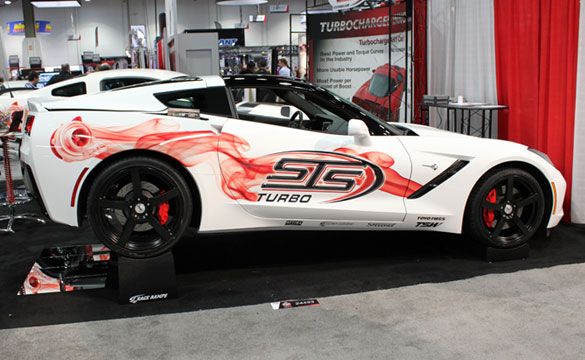 Last week two thirds of the CorvetteBlogger wolfpack was out in Las Vegas wandering around the desert looking for strippers and cocaine at the annual SEMA show. The SEMA show is the banner event for the automotive aftermarket industry. This year 125,000+ attendees perused the latest wares from hundreds of suppliers. Countless custom rides become the show pieces to display the newest products and industry trends. SEMA is only open to members, buyers, vendors, and media. Don't fret if you couldn't be there as our Corvette photo gallery awaits you just beyond the Read More button below.
Obviously we were there to check out the latest offerings for Corvettes and we weren't disappointed. Over a dozen new C7's were there in addition earlier models. We've already shown you the Chevrolet's Gran Turismo, Atlantic, and Pacific concepts. We've also taken a close up look at the Jeff Nowicki's Concept7, Forgiato's wide body, and Legacy Innovations' awesome 1958.
Some of our favorite Corvettes there included the C7's in the booths belonging to LG Motorsports, Kooks Headers, and Lingenfelter Performance. HRE wheels showed a cool pearl white Stingray sporting 2 different wheel types on each side of the car while Vossen wheels adorned the P58 concept from Pfadt. Karls Kustoms and Classic Reflection Coachworks showed off their cool retrovettes and our friends at the Bondurant School of Performance Driving had a couple of their new classrooms on display.
While the new Stingray was most prevalent, the older Corvette generations were still well represented. . Both Hawk Performance and Wilwood Brakes each had C6's prominently on display. Then there was Brian Hobaugh's Ultimate Street Car Shootout-winning C2 parked outside. We also stumbled across the mind numbing C2/SS and an, ahem, interesting heavily modded Ford powered 1978 coupe.
There's something for everyone at SEMA. Our evidence to that fact lies in the photo gallery below.
Related:
SEMA 2013: The Nowicki Concept7 Corvette Stingray
Brian Hobaugh and his 1965 Corvette Win the 2013 Optima Ultimate Street Car Invitational
SEMA 2013: Quanta's Hybrid Package Boosts Corvette Z06 to 773HP!
[PICS] SEMA 2013: Forgiato Widebody C7 Corvette Stingray Wins SEMA Design Award
[VIDEO] SEMA 2013: The Corvette Stingray Pacific Concept
SEMA 2013: Legacy Innovations' 1958 Corvette Roadster
[VIDEO] SEMA 2013: The Corvette Stingray Convertible Atlantic Concept
[VIDEO] SEMA 2013: The Corvette Stingray Gran Turismo Concept
[VIDEO] 2013 SEMA: Interview with John Fitzpatrick
Chevrolet Reveals Its 2014 Corvette Stingray Concepts for SEMA