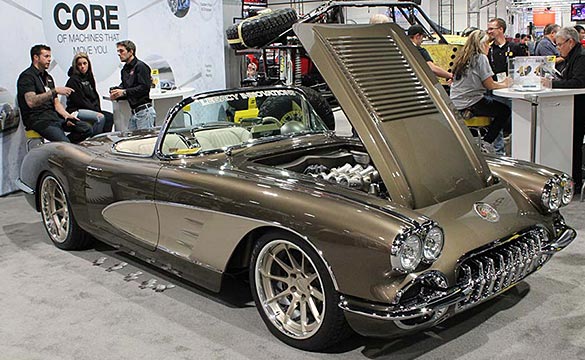 Sometimes greatness comes from taking a small step. That's how this stunning 1958 Corvette restomod from Legacy Innovations that we saw this week at the SEMA show came to be.
Steve Smith from Manchester, Maryland brought his C1 Corvette to Legacy Innovations shop in York, PA saying he blew out his clutch and wanted that replaced along with a new rear end.
After consulting with Legacy, his plans for the car grew as he ended up going with a tubular chassis with a front and rear suspension set up for road racing.
Once the roadster got into the shop, the build continued to evolve as he decided to push the project further and we see the stunning results here.
The 1958 Corvette features a 383 small block roller motor with a Moon individual throttle body intake and BS3 engine management. Coupled to the motor is a new 5-speed manual transmission from Keisler Engineering.
Providing the eye candy is the stunning paint that was custom mixed for the job. The roadster is running Forgeline three-piece wheels and Wilwood Brakes provide the stopping power.
All the work was done in house by Legacy Innovations. If that name sounds familiar it's because they did a SEMA build last year with Rod Saboury called the 1963 Black Widow Corvette Split Window Coupe.
Check out the pics below from SEMA:
Legacy tells us that this car is now a perfect driver and the owner can go anywhere with it. So if you're in the Manchester, Maryland area, keep your eyes open for this cool 1958 Corvette roadster.
Related:
SEMA 2012: Rod Saboury's 1963 Split Window Black Widow Custom Corvette
The George Barris "Asteroid" Corvette to Cross Barrett-Jackson's Scottsdale Auction Block
Forgiato Wheels Building a Widebody C7 Corvette Stingray for SEMA