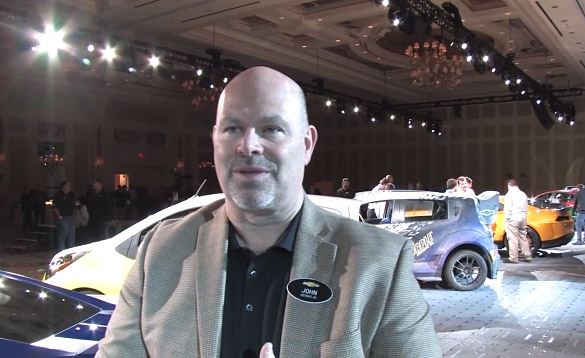 At the Chevrolet Media Preview for the 2013 SEMA show in Las Vegas, we had the opportunity to talk with Corvette/Camaro's Marketing Manager John Fitzpatrick. We spoke about the 3 new Stingray Concepts, 2014 Corvette Stingray production and we asked John about the rumors of the one year wait for the Z51 option.
Regarding those constraints, Fitzpatrick says it's a matter demand and supply. Where they thought that the Z51 performance package would be ordered on around 50% of Corvette Stingrays, the popular option is running at 85% on initial orders. So while it's true that there might be an increased wait time to order a Z51-equipped Corvette Stingray, those reports of it being up to a year are false according to Fitzpatrick.
John also tells us that the Convertible Corvette Stingray Model is still a go for late 2013 and they believe that once production starts, that will help ease the demand they have seen for the visible carbon fiber roofs.
Finally, John tells us that the ability to order the Corvette from any Chevrolet dealership instead of the initial 900+ dealers selected for the rollout will be happening soon. Dealers still must complete the training and have the service tools to be eligible to place orders for the new car.
Here is John Fitzpatrick from the Chevrolet SEMA Preview:
Related:
Report: Demand for the Corvette Stingray May Create a Massive Waitlist
GM's John Fitzpatrick Talks about Shipping and Quality Assessments on the 2014 Corvette Stingray
Carbon Fiber Roofs Constrained on 2014 Corvette Stingray Orders