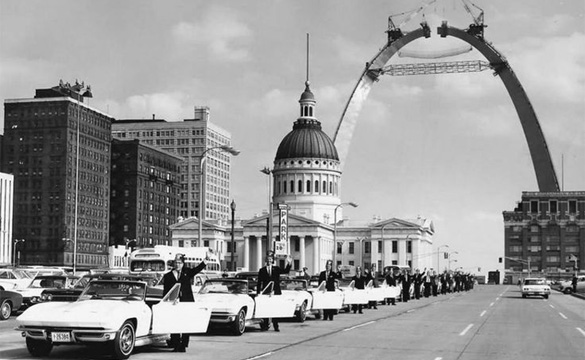 It's time for Throwback Thursday where we feature vintage photos of Corvettes. Today's selection shows the Tangier Shriners picking up their identical 1965 Corvette Sting Ray Convertibles in St. Louis, then the current home of the Corvette factory.
The Omaha Tangier Shriners Corvette Club was one of the more interesting Corvette clubs in the country in the sixties. The club was made up of 13 members and every year they would purchase a fleet of brand new, identical Corvettes that would be used in parades and other precision driving events to draw attention to their philanthropic efforts for their Children's Burn Hospitals.
The Corvettes were all COPOs (central office production orders) ordered through Anderson Chevrolet in Wahoo, Nebraska. This picture shows the 1963 troupe picking up their Corvettes in downtown St. Louis and you can see the great Arch still under construction in the background.
Click here to see a larger version of the Shriner Corvette Patrol.
The Shriner's Corvette Patrol operated from 1957 until around 1981. Today, these are Corvettes are collectible due to their COPO order status and the unique history of the patrol. Check out this website for more information about the Omaha Tangier Shrine Corvette Patrol.
Do you have any vintage Corvette pictures to share? Let us know!

Source:
Corvettes @ pinterest.com
History of the Omaha Tangier Shrine Corvette Patrol
Related:
[PIC] Throwback Thursday: Corvette Fuel Stop
[PIC] Throwback Thursday: 1959 Corvette Stingray Racer with the 1956 Corvette SS
[PIC] Throwback Thursday: One Man's Trashed Corvette is Another Man's Treasure
[PIC] Throwback Thursday: 1963 Corvette Sting Ray Burnout
[PIC] Throwback Thursday: Sitting on the Back of Dad's 1966 Corvette
[PIC] Throwback Thursday: Beauties Parade at the Dragstrip
[PIC] Throwback Thursday: Motor Trend Tests the 1958 Corvette