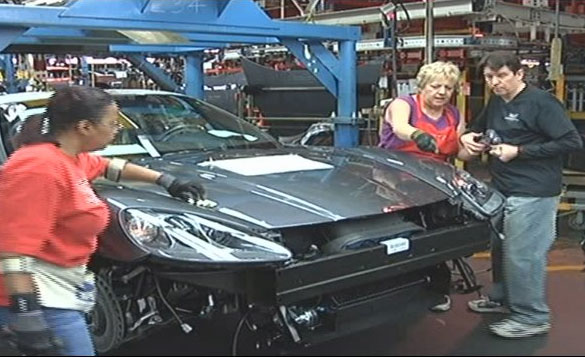 Add another chapter to the amazing life story of Patrick Rummerfield.
Rummerfield is known around the world as the only fully recovered quadriplegic in history, having come back from a 1970's car wreck that had left him paralyzed from the neck down.
Last Wednesday, the long-time Corvette fan spent a day installing hoods at the Corvette Assembly Plant in Bowling Green, Ky.
Ironically, his inspirational story began while he was daydreaming about racing Corvettes and playing basketball, "when my left big toe moved," he said.
That little breakthrough began 17 years of physical therapy that has brought him back to a fully functional person who has inspired countless others with his recovery.
"You never know what tomorrow is going to bring but if you don't try, and if you don't stay strong, and try to keep your body as physically fit and keep pushing it to move, you know, you'll never achieve your goal," Rummerfield said.
His story impressed the workers at the Corvette facility, including Plant Manager Dave Tatman. "Patrick's awesome," he said. "I'd hire him in a minute. He has actually been doing a very, very good job."
Ironically, Rummerfield's accident occurred while he was behind the wheel of a Corvette.
"In 1974 I was involved in a high speed car accident," he recalls. "We hit the ditch at 130 miles per hour and I broke my neck in four places."
Doctors said he wouldn't survive the crash, much less walk again, but he's overcome those tremendous odds to live a full life. Among his accomplishments are running a marathon, driving a race car, and carrying the torch for the Olympics.
A highly sought after motivational speaker, Rummerfield was asked to speak to workers at the Corvette plant.
"His story is such that there was no room in his life for anything less than success," Tatman said.
After his speech, he insisted that he couldn't leave without helping build his favorite car.
"I love sports cars, but not just any sports cars," he said. "I love the U.S.-made Corvette and to me, it doesn't get any better than this."
Rummerfield works at the International Center for Spinal Cord Injury, and you can find out more about his life at rummerfield.com.

Source:
WKRN
Related:
[VIDEO] Corvette Assembly Plant Reveals Future Plans
[VIDEO] Larry the Cable Guy Visits the Corvette Assembly Plant
[VIDEO] Corvette Assembly Plant Celebrates 30th Anniversary