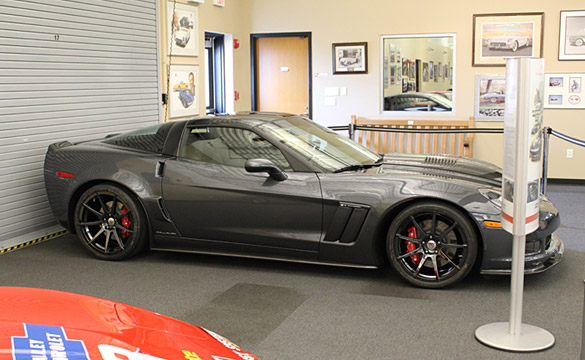 Earlier this year, Callaway announced the building of a special run of 25 Corvette Grand Sports for the 25th Anniversary of RPO B2K, the first turbo-charged Corvettes offered by the factory. Although today's RPO B2K has traded in the turbos for a supercharger, the end result is equally awesome.
The 25 B2K Anniversary Corvettes were all built on Thursday April 5th and the first example was shown off at a special Callaway Dealers event this previous Monday at the National Corvette Museum.
The RPO B2K Anniversary Corvettes are all Cyber Gray Grand Sports made up of both coupes and convertibles. The newest Callaway's are mostly 4LT interior trim and are offered in both six-speed and automatics. The interior features ebony colored seats with a Callaway steering wheel, door sills and floor mats. There are a three B2Ks that were built with the 3LT and one had an override for Black headlights.
Each of the Callaway B2K Corvettes receives the trademark Callaway hood and we especially like the look of the exposed Carbon Fiber on the rear spoiler and splitters. The RPO B2k Corvette features an LS3 with a Callaway SC620 supercharger wwhich makes an estimated 620 hp. That's nearly the same power as the Corvette ZR1!
The popular B2K option package first appeared in 1987. The Corvettes were built in Bowling Green and then shipped to Callaway's facility where the L98 engine received a pair of intercooled turbos as well as the other necessary engineering. Once completed, the cars were shipped to the customer's local Chevy dealer.
The B2K Corvettes were first RPOs that Chevy assigned to a third party company and during its five year run (1987-91), 510 RPO B2K Corvettes were built.
Although no MSRP was provided, we did hear that the B2K 25th Anniversary Callaways will sell for an additional $50,000 over the Grand Sports's MSRP. With a Grand Sport convertible in 4LT trim level, that means pricing is in the Corvette ZR1 range as well.
Interested parties can contact Callaway Cars to find out which of the 30 Callaway dealers will have the new anniversary car.
The very first of the new Cyber Gray B2K Corvettes joins a special collection of Callaways now on dispay at the National Corvette Museum. Stay tuned as we'll be showing off that collection in the coming days as well.
Click here to watch a video of the introduction of the new Callaway special anniversary edition at the Callaway dealer meeting held at the NCM earlier this week.

Source:
Callaway Cars
Related:
Callaway Announces the Return of RPO B2K with Special 25th Anniversary Edition
1991 Callaway Corvette Speedster For Sale in Arizona
New Callaway Corvette Package Stands up and Delivers 580 hp