C3 Corvette
Photo Credit:
Hemmings
The debate had ranged for months.
To wash or not?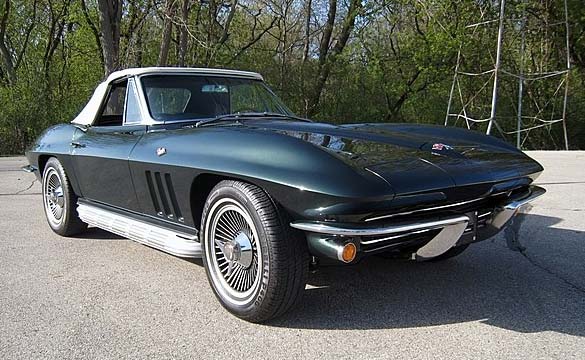 Mecum Auctions blows into the Windy City this weekend for their annual sale. This year they christen a new location with 1,000 vehicles including over 90 Corvettes. The 3-day event kicks off Thursday, October 10th and runs through Saturday, October 12th at the Schaumburg Convention Center. Velocity will have 16 hours of live coverage from Chicago.
The mystery of what happened to Terrance Paul Beghin and his 1982 Corvette 27 years ago appears closer to a solution.
Charlotte County workers found a white Corvette in a canal near Rampard Boulevard and Navigator Road in the Deep Creek area of Punta Gorda, Fla., and it was pulled from the water Wednesday morning.
Article contributed by Lance Miller / Corvettes at Carlisle / Chip Miller Charitable Foundation
The Corvette hobby lost an amazing person in 2004. My father, Chip Miller passed away from a rare disease called amyloidosis. Shortly after his passing, my family and I decided to start the Chip Miller Charitable Foundation (CMCF) in his honor and to raise awareness of this terrible disease.
The Corvette hobby was and continues to be the driving force behind the efforts and mission of the CMCF. My father was not only a wonderful person; he was also a best friend and mentor to me and many of my friends. His loss affected me in many ways, but most importantly to follow his mantra of "Life is good!" He was an incredibly positive, caring and generous person and his passing made me realize just how precious every minute really is and to enjoy the time we have on this earth.
One of the coolest recurring Corvette shows that happens once every couple of years is Vettes and Jets on the Lex. Over 300 Corvettes are loaded onto the flight deck of the retired aircraft carrier USS Lexington for a two day Corvette show. The Corvettes are parked next to many of the retired jets from our Armed Forces and proceeds of the event goes to support The Wounded Warrior Project.
It's time for Throwback Thursday where we feature vintage photos of Corvettes. Here we have two beautiful icons from the 1960s. The first is obviously a 1969 Corvette Stingray with a wild custom paint job that makes us wish it was in color. And secondly, the mainstay of automotive events is Miss whatever-the-name-of-the-dragstrip.
We've all heard of the AstroVentilation that was used to keep passengers cool in the 1960s and 1970s, sort of a poor man's air conditioner. But Austin Reed of Texas has an "AstroVette."
His unusual 1969 Corvette originally belonged to astronaut Alan Bean – the fourth man to walk on the moon nearly 44 years ago – and will be on display Sept. 28-29 at the Corvette Chevy Expo at the Dallas Market Hall.
Dana Mecum's favorite car has to be the Chevrolet Corvette, especially if solely based on the number of outstanding high dollar cars that were hammered down during the last four days of his third Dallas auction.
It was clearly evident that Corvettes carried the four-day auction and were the car of choice for collectors where a new record price was paid for a Corvette ($3.2M, a 1967 L88, fully documented former NHRA record holder and the only '67 L88 to retain its original body panels).
Of the 172 Corvettes that crossed the block 106 were sold, a 61% sell through rate, for a combined hammer price of $9.106M. Though some buyers were able to grab some excellent bargains during the first two days of the sale, the last two days saw spirited bidding and prices well above average. Almost twenty Corvettes were hammered down above $100K. It seemed as though most restored second generation cars were selling between $100K to $150K and if the car had any rare options it was selling close to or above $200K.
Right on the heels of his successful Monterey event which generated over $31M in sales, Dana Mecum is headed to the Lone Star state to host another auction extravaganza, September 4th through the 7th. This will be Mecum's third year for his annual Dallas event held at the convention center and will be loaded with over 1400 collector cars featuring over a hundred Corvettes including several examples of the six generations.