If you've ever wondered why Chevy used rubber bumpers on the front and rear ends of the mid-1970s Corvettes, then take a look at this eBay Motors1976 Corvette up for sale on eBay.
When we saw the weird-looking rear end, we thought at first someone had customized this car. Then we got around to seeing a photo of the front end, actually read the listing, and realized that the urethane bumpers had just been removed.

The good news is that the seller has new replacement bumpers "still in the box," so the new owner – and there definitely will be one since the car is being offered at no reserve – will be able to restore this Corvette back to its factory-original appearance. It'll be nice to see one of these C3s without wavy bumpers, since the original ones have been known to fade and wrinkle over the years.
This Stingray actually has a lot more going for it than just new bumpers, too. It's showing just 68,000 miles and comes with the super-rare four-speed manual transmission, an item chosen by just 2,088 of the 46,558 customers that year.

Underneath the hood is another bright spot if you're into originality as the numbers-matching L48 350 engine is still in place. Some might argue that's not necessarily a good thing, however, as it produces a puny 180 horsepower.
The Smoked Grey leather interior appears to be nicely preserved, too, and the car includes niceties like air conditioning, power windows, and a luggage rack.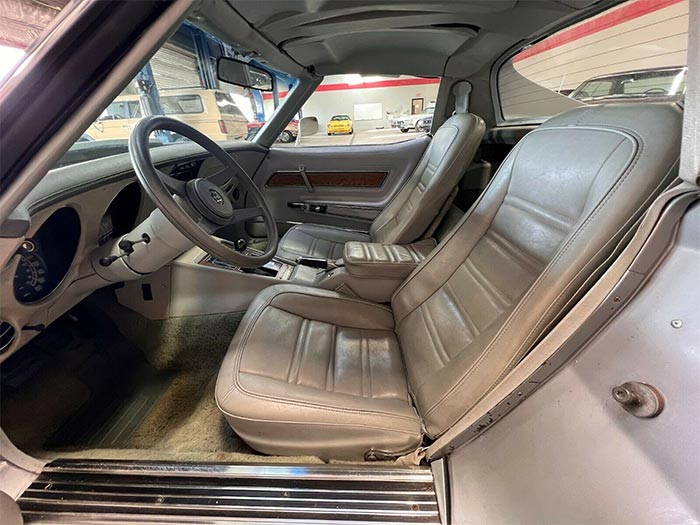 The seller notes that the car "runs and drives great," and unless the action picks up significantly in the next four days, someone may get a bargain since the high bid so far is just $7,600. Don't forget – there's no reserve!

Source:
eBay Motors

Related:
Corvettes for Sale: 1972 Corvette Stingray with LS6 454 V8
Corvettes for Sale: Nassau Blue 327/300-hp 1965 Corvette Sting Ray Sport Coupe
Corvettes for Sale: Customized 1964 'Split-Window' Corvette is One of a Kind