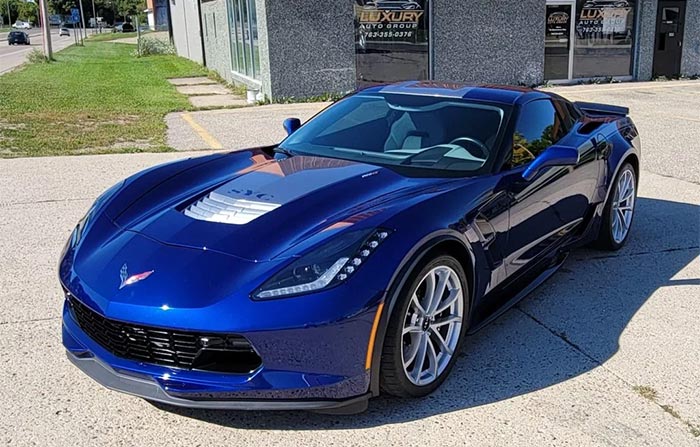 If you're in the market for an out-of-the-ordinary C7 Corvette Grand Sport coupe, you might want to take a closer look at this 2017 Admiral Blue over gray leather example, one of 21 converted by Specialty Vehicle Engineering that year.
The auction on Bring a Trailer ends on Nov. 20, and the best offer has already hit $85,000.
Of course, that's a bargain compared to the original price. The Yenko/SC package added $47,995 to the factory MSRP of $78,015, but it added a boatload of performance features that included a custom-built 6.8-liter LT1 engine with an aluminum block, forged steel crankshaft and H-beam rods, forged aluminum pistons, CNC ported and polished LT1 cylinder heads, custom 2.9-liter supercharger with a $1,000 paint job, and LT4 fuel system and injectors.

With a custom performance tune, Yenko claimed the modified engine would produce 800 horsepower and 750 lb-ft of torque.
The package also included Yenko Supercharged fender and rear fascia badges, 800 HP hood cowl and rear fascia badges, Yenko 800 HP Supercharged billet aluminum door sills with vehicle build number, cast aluminum quad exhaust tip with integrated Yenko nameplate, painted hood, hood grille, and roof stripes with matching side stripe vinyl graphics, diffuser fins painted in Carbon Flash Metallic, Z06-style front splitter and side rockers painted in Carbon Flash Metallic finish, Z06 clear Wickerbill adjustable spoiler center, custom color painted brake calipers, a 3 year / 36,000 mile warranty, and more.

This four-owner car – which features the 3LT package and eight-speed automatic transmission – has traveled just 2,200 miles since new, including time in Pennsylvania, Florida, and Minnesota before the selling dealer's recent purchase.
The Yenko name, of course, has been widely respected for decades thanks to its high output offerings for Camaros and Corvettes. While the original dealership that became famous for installing big-block V8s in Camaros before Chevy even did, has been closed since the early 1980s, the legendary name lives on through highly modified Corvettes like this one.

Source:
Bring a Trailer

Related:
Corvettes for Sale: 1993 Corvette ZR-1 40th Anniversary Coupe with 5,817 Original Miles
Corvettes for Sale: Project 1965 396/425 Convertible on Craigslist in Arizona
Corvettes for Sale: The Corvette Vagabond's 1966 Convertible Offered on BaT