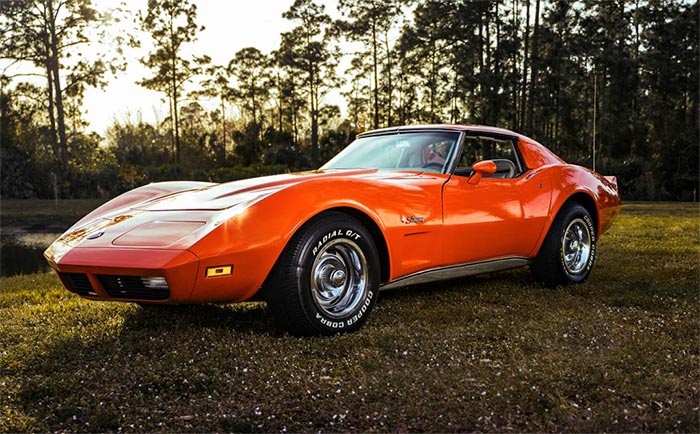 To young folks nowadays, who are living in the golden age of performance cars, at least in our opinion, it may seem like the '70s were a terrible time to be a Corvette enthusiast.
Admittedly, the performance numbers back then don't even come close to what ordinary sedans are pumping out these days.
Still, for a 15-year-old like me eager to get his driver's license, the idea of driving a brand new 1974 Corvette was like heaven. In fact, I worked after school bagging groceries at a supermarket back then, and one of my favorite customers drove a silver '75 Corvette. Wow!

Nowadays, those mid-70s Corvettes aren't necessarily on the top of anyone's list of dream cars, but that doesn't mean they're still not desirable to folks of a certain age.
Especially one as nice as this Corvette Orange '74 coupe that's available on Craigslist out of the Ochoa, Florida area for $24,000.

The car boasts of a new 350 V8 motor nicely chromed inside a well-done engine bay. A fresh Turbo 400 three-speed automatic transmission with a shift kit and a fresh rear end have been installed, along with new rear drive axles, rear springs, shocks, brake system, calipers, rotors, master cylinder, booster, radiator, complete AC system, wiring harnesses and, in the words of the seller, "too much to list." Also included is the original 350 engine that you're welcome to rebuild, too.
As you might expect, with all that work, the seller says the engine fires right up and runs and drives well.

Likewise, the silver interior is said to be new and in very good condition, and the lighter color is more comfortable on hot days common in Florida.
The new owner will get receipts for all the new parts that have been purchased by the seller, along with the trophies he's won at many car shows.
If you're looking for a reasonably priced C3 Corvette that has been freshened up for the 2020s, this might be worth a look for you.

Source:
Craigslist.com

Related:
Corvettes for Sale: 1977 Corvette with an L82 and 4-Speed Manual Offered in Atlanta
Corvettes for Sale: 2021 Ronald McDonald Special Offered for $249K
Corvettes for Sale: This Million-Dollar 1957 Corvette Was Part of Zora's Fuelie Test Fleet