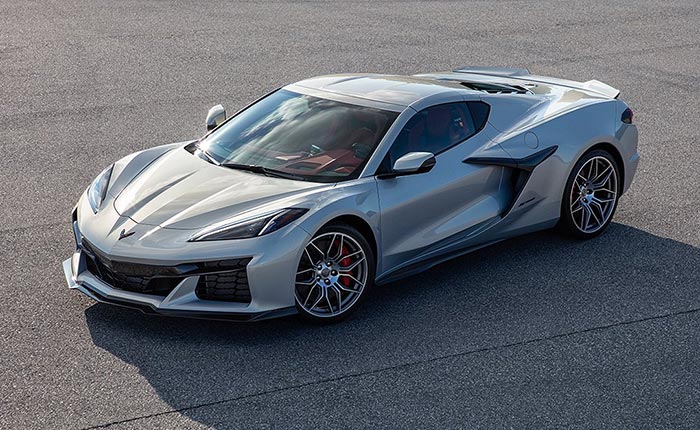 Photo Credit: Chevrolet

Chevrolet zigged where the "slow car reveal" playbook clearly told them to zag this week. Instead of provoking their faithful legion of fans with an endless string of teaser clips, strategically shaded shots of partial bits of bodywork, and enigmatic numbers flashing on a screen, they said, "forget about it" and just threw a full, uncamouflaged photo of their hotly anticipated Z06 four pictures deep in an Instagram post.
Since the pic came without any further information, it is time for all of the experts to go over it with a fine-toothed comb; spoiler alert: CorvetteBlogger is where you are going to get the best of the many analyses to come! Let's break out the microscopes and get into this thing!
What are we seeing in the Z06 picture?
A recurring theme in comments sections across the 'net after the "ZPEG" started making the rounds (including right here after Keith beat all of the mainstream car writers to the punch) was that of slight disappointment. "That doesn't look as extreme as I was hoping it would" was a chorus heard far and wide. It is the humble opinion of your author that Chevy released a "Dad Spec" Z06 on purpose.
Dad spec is a brilliant observational term that was coined by Car and Driver's Ezra Dyer last year. A "DS" car is any vehicle with "stacked performance and a possibly juvenile rep" that has been optioned "toward luxury and understatement" click on the link for further reading on the topic! Our first glimpse of a fully exposed C8Z on Monday was undoubtedly a Z06-DS. Chevrolet decided to forgo the flashy portions of the Corvette color palette and give us the very restrained and upscale combination Silver Flare Metallic draped over the richer and more subtle of the (3LZ) red interiors; Morello Red Dipped Napa leather. Throw in a set of bright, machine-faced wheels, a general lack of carbon fiber, and track-focused aero add-ons, and you have a Z set up for luxury touring, not attacking lap times. This 100% dad spec Z allows Chevrolet to hold on to some of their cards. Even though we can all say that we've seen the Z06, the hard-core Z07 remains shrouded in mystery; exactly how the manufacturer wants it!
Carbon-Ceramic Brakes
Even though this car doesn't seem to include the Ultimate Performance Package that has worn RPO Z07 in the past two Z06 generations, I'd bet a Buffalo Nickle that the pictured stoppers are Ceramic in nature. This points to one of two things; all Z's will wear the top-of-the-line braking technology, or, Ceramics will be a stand-alone option, like non-Z51 MagRide on the Stingray.

CFZ/CFV The Carbon Fiber Ground Effects Package
The picture that was released Monday clearly shows a molded front splitter and side skirts in the exact same shape as the ones in the C7Z's Carbon Fiber Ground Effects Package. These beauties have been an option in the Z06 catalog since 2011. They have traditionally been available as an add-on with the Z07 package (CFV), or an individual option (CFZ) with two finishes available at various times; exposed Carbon Fiber or Carbon Flash Metallic. Again, it isn't clear if all C8Z's will feature this must-have option, or if they were just spec'd for the photo car.

Some of the new design features look familiar, where have I seen them before?
The Thin, Villainous Aero "Mustache" – Ferrari 458 Italia
These two in-grille wings were copied straight out of the Ferrari 458 Italia's homework folder. It is no secret that the 458 was the main car benchmarked by Tadge and Co. when they were working on the first mid-engine Z06. The Italian's mustache seems to have made it over to the Z06. On the 458, the winglets are flexible and move downward by as much as 20 mm at speeds above 125 MPH, decreasing front-end lift. The Z's 'stache is narrower, so it remains to be seen if it aids in high-speed downforce, or if it merely looks menacing (while also offering pedestrian protection). We are good with it either way!

The body-colored grille "tusks" – Lamborghini Aventador/Huracán
Lamborghini has made an art form out of differentiating the mind-boggling number of variants in its mid-engine V10 and V12 lineups with different grille tusks. To make the Z look distinct when it is sitting next to Stingrays in the showroom, Chevy designers seem to have gone in the same direction. The Z06 grille treatment looks a lot like the Performante (bottom right, green) with an acute angle replacing the obtuse one in the Lambo. Well done, Chevy! It looks great and isn't a flat-out knockoff!

Dive planes
From the picture of the prototype on Chevy's Instagram post. These are tough to make out, but they are definitely there if you look closely. Picture three shows a full-on Z07 car that is still sporting camouflage. Upfront, you'll see a pair of down-force aiding dive planes just like the ones on the Camaro ZL1 1LE.

The Wing!
The biggest difference between picture 3 (the camo'd Z07) and picture 4 (the uncovered silver car) is the presence of a large wing out the back. Picture three clearly shows a much more extreme spoiler. We haven't seen one exactly like the Z's on a production car yet, but shape/curvature-wise, it conjures visions of the McLaren P1 and Koenigsegg One:1. Corvette-wise, it looks like the C7 Z06's stage II and III spoiler was put on the C7 ZR1's wing stilts. We can't wait to hear what kind of downforce numbers the entire Z07 package brings to the table!

Related:
[PICS] Chevrolet Teases the 2023 Corvette Z06 With Photos on Instagram
[PICS] Here is a Better Look at the Boomerang Trim on the 2023 Corvette Z06
[PICS] 2023 Corvette Z06 Renderings in EFY Body-Colored Exterior Trim vs Carbon Flash