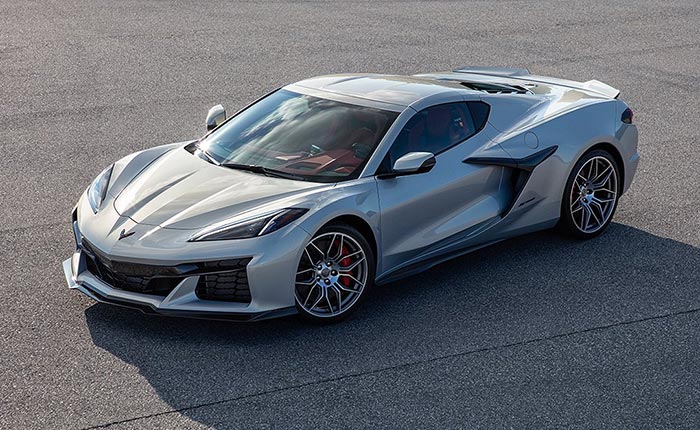 Photo Credit: Chevrolet

Chevrolet dropped another teaser for the 2023 Corvette Z06 this morning as we are now just 30 days from the reveal of the next-generation sports car. The teaser was posted to Instagram and shows the journey of the C8Z from concept to reality.
Chevrolet calls this teaser "Time To Get Real" and it shows an artist's sketch of the car, a pre-production mule in camouflage, and then a rendering of the completed Z06 in what we are assuming is its base form.
Without further ado, here are the four images:

The biggest surprise for us is the new design of the Z06's side air intake. Gone is the more curved boomerang of the Stingray and in its place is trim work that resembles a sideways Y with the tail pointing towards the back of the car. Under that trim extension, we see the Z06 emblem presented on the lower rear.
That design change on the side air intakes offers a very visible design cue to onlookers that this is the Z06!
The machine-faced wheels are very bright on the car and we've been referring to this design as the "tuning fork" version, as opposed to the traditional five-spokes we've seen on other prototypes.
There is also a different emblem on the rear deck which we can't make out, but it could be another crossed-flags badge.
Chevrolet included a higher-res version of the photo on their Z06 media page and we have it here. You can also right-click this link to download it.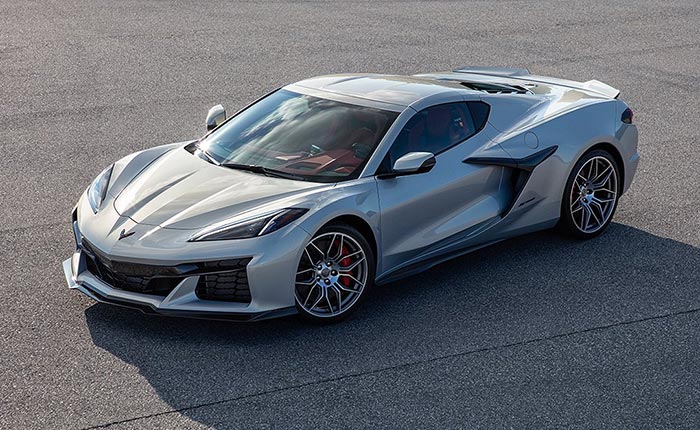 Chevrolet says in their email to us that more details about Z06 and the reveal will be shared as that date gets closer. With us being 30 days out and no invites or other details made public, we are sure hoping that Chevrolet is planning a reveal in front of a live audience instead of a boring virtual affair.
What are your thoughts on this official rendering of the 2023 Corvette Z06? Let us know in the comments below!

UPDATE
There was also a video released with these photos. You can see it here:

Update 2
I lightened the image significantly to remove the shadow on the side of the car. The side intake is now clearly seen and it's completely different than we initially thought. FYI, on the forums they are calling it a wishbone and a sharks tooth based on the shape. The downward trim piece looks to be almost tucked inside with just the edge of it jutting out the vent, while the top portion rests along the outer edge like the Stingray's Boomerang. It's very different than anything we've seen on the spy pics. I have more on this in a separate post here.

Source:
Corvette / Instagram

Related:
[AUDIO] Brutal-Sounding 2023 Corvette Z06 Engine Revs
[PIC] Digital Artist Creates 2023 Corvette Z06 Rendering in Amplify Orange
[SPIED] 2023 Corvette Z06 Driving on the Streets Around the Nurburgring