There is no Sunday delivery post with Mike Furman today as he is out on a well-deserved vacation this week. Instead, we are offering up another special Corvette delivery that we learned about earlier this week on the Corvette Forum.
Corvette Forum member LANZ06 shared the story his new 201 Corvette Stingray Convertible and the circumstances that made this delivery very special:
So, long story short. 2 1/2 years ago I was diagnosed as being VERY sick. All I talked about was getting a C8 before it's too late. I am already here longer than I am supposed to be. Well, last weekend my Uncle and Aunt invite me and my wife up to Maine for the weekend. We wake up on Saturday and go look at a house he just purchased on the ocean. They open up the garage, and there it is. A 2021 HTC, Shadow Gray Metallic with the Natural Dipped interior. It is the car I have dreamed about. He has a 2020 Bronze HTC. So I say OMG you got the 2021 too?! And they say" NO YOU GOT THE 2021″! What great family I have! I love this thing! I will post some pics when i take a few good ones if the weather ever gets nice here! I did not post this for any sympathy! I posted it to say what a great family I have and I thought it was a cool story to share.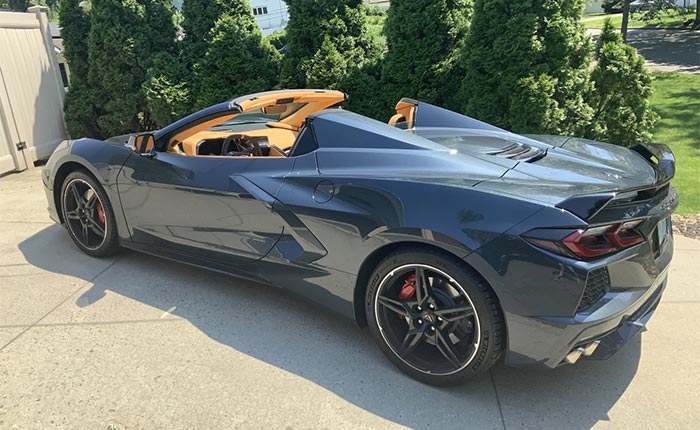 Needless to say, other CF members replied with their congratulations on his new Corvette, and offered kudos to his family members for making such a memorable gift possible. The story also puts into perspective what's really important in life…family, friends, and the will to carry on when presented with life-altering news.
Thanks to LANZ06 for sharing his story and allow us to share it with our readers.

Source:
CorvetteForum.com

Related:
[VIDEO] Wife Surprises Husband With a 1959 Corvette On His 65th Birthday
[VIDEO] Wife Surprises Husband on Father's Day with a Brand New Corvette Stingray
[VIDEO] Man Gifts a 1967 Corvette to a Vietnam Veteran for his Service and Friendship