After taking a mid-season break, Motor Trend's newest property Top Gear America is back to wrap up its rookie campaign! After an uninspiring seventh episode that saw the hosts driving… heavy equipment, they rebounded with an episode Ocho that easily stakes its claim as the best outing yet for Dax Shepard's version of the wildly popular motoring show.
For "Ultimate Drivers Car," we join the hosts in the middle of a heated argument at an outdoor table in front of a half-full whiteboard (it's like Thanksgiving come early!). After a while, they acknowledge the audience, Daniel Tiger-style, and let us in on this week's premise. The producers have tasked Dax, Jethro, and Rob with finding the best driver's car for under $100,000.
Unsurprisingly, Jethro, Motor Trend's journalist from across the pond, opted for a Porsche. The 718 Cayman GT4, to be precise. What is surprising, though, is that the hicks that run the Corvette site that you're currently reading noticed that Jethro overspent! There are two things that we know for sure; Cops doesn't start until 4:00, and the Cayman GT4 retails at $100,550 before any option boxes are checked. We demand receipts! (Luckily, the print version of MT sort-of made amends on Monday by pitting their long-term Stingray against a Cayman GTS 4.0 (that still rang in at an eye-watering $94,200) in an excellently written comparison test!).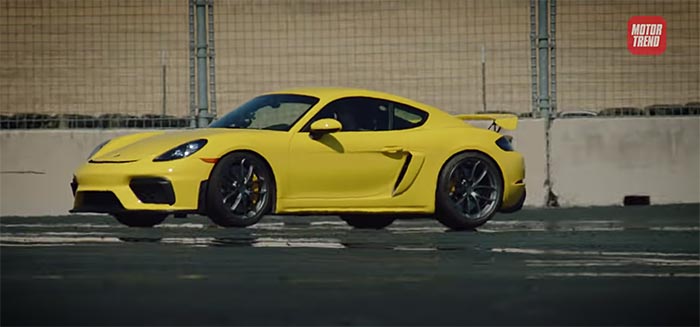 Dax, who reveals a C6 crossed-flags logo tattooed between his shoulder blades, also stays on-brand when he shows up in the crowd-pleaser, a menacing Shadow Gray Stingray with the Z51 performance package. We know that this car could be had for around $66,000 (if you are fortunate enough to pay MSRP), so the Chevy, as usual, starts strong in the value category!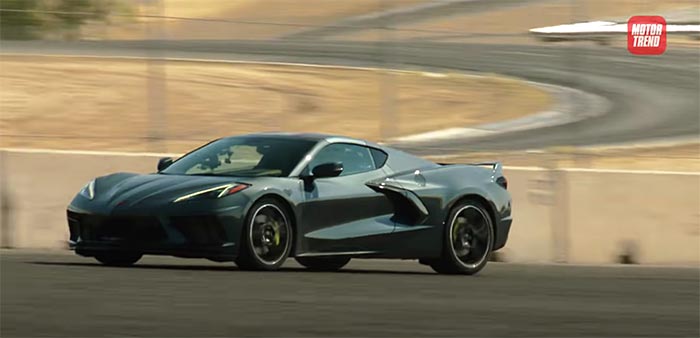 Not quite a car guy, Rob is the host that pulls off a surprise. His $100k lottery car of choice is a Lotus Evora! At $96,950, the former GM satellite's only US offering for 2021 joins the Porsche over-the-budget land once you figure for taxes or one tank of gas these days. For that exorbitant sum, the small British outfit gives its customers the V6 from a Toyota Camry that has been supercharged to 416-horses (besting the top-spec Cayman by two ponies) that only have to haul around 3,175 lbs.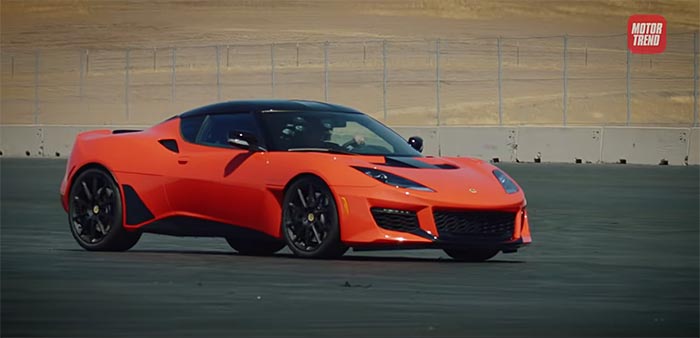 After introducing their cars, the presenters decide to take the argument from the stats to the streets, where each will concoct their own test to highlight the virtues of their car. Jet goes first and suggests a presentation of vehicle handling limits. The Corvette and its street tires register an impressive 1.07 gs, which is good enough for a silver medal, while the Pilot Sport Cup 2-assisted Porsche hits 1.2 g.
Bobby's test came next. The mid-series review that I didn't write after viewership of the original didn't warrant a sequel was going to say that it wasn't working out with Rob. His lack of confidence when it came to car-related topics (which come up a lot on this show, strangely) led him to just wait around and repeat things that the other two hosts said more times than I could count in episodes 3-6. I'm glad that I didn't put that out there earlier because it would have been too soon to call. Corddry is finally getting comfortable in his role, and this episode marked the first time that he really let his core competency, humor, shine through. His "X-Factor" test involved "getting to know the cars" personally, and it was straight out of a Will Ferrell sketch; I audibly chuckled a few times, which was a first while watching any non-original Top Gear episode. Nobody understood what he was doing, so he was able to declare his Lotus the champion (we are pretty sure this is the exact same methodology that Car and Driver implemented to determine the winner of this one!).


AWhen the show's frontman got his turn, he devised something called the "Happy-ish Meal," and all of the time that the Corvette Team spends at McDonald's finally paid off! Dax says that between shooting scenes, recording his (newly exclusive to Spotify) podcast, and family commitments, he eats most of his meals in his car, and he wants to be able to do this while also having fun. He then proceeded to drift each car while eating a burger and fries with a large drink. After bumbling around and making a mess of the Euro-snob mobiles, he demonstrated the superiority of American engineering. The mid-engined 'Vette was designed so intelligently that he could get a drink without even picking up his cup, giving the C8 another easy victory to go with its horsepower and acceleration accolades. He also made the first convincing argument for not buying a manual transmission to your humble author, a once unfathomable feat!
Before the trio could cook up another pointless but entertaining test, "the producers" step in with their own idea for a tiebreaker. Dax and Co. would be sent to Thunderhill Raceway Park, where they would see who could keep from being lapped by an IndyCar for the most laps. SPOILER ZONE AHEAD! Jethro and his GT4 went first, and they were able to hold off the racer for an impressive 7.9 laps. Rob and the Evora barely made it past the start/finish a fifth time before being passed, setting up Stingray Dax for all of the marbles. When the dust settled, and the IndyCar had collected its final scalp, Dax and America's Sports Car had 7.2 laps behind them, thus handing the day's oversized golden belt to the Porsche that didn't follow the only rule of the test (costing under six-digits).
Dax did exactly what he should have done, though; he didn't relent. He maintained until the cameras went out that the Corvette was the better choice, rightly claiming that it was the only one spewing actual thunder at Thunderhill. Then, in a stunning reversal of the cruel surprise that pulled the C8 out of Episode 1, Dax stayed behind and gave us some extra LT2 goodness with The Randy Stig behind the wheel! It was some damn fine television!

Source:
Motor Trend

Related:
Review: Top Gear America
[VIDEO] 2020 Corvette Featured in New Chevrolet Commercial, 'Just Better'
[VIDEO] American Pickers Makes an Offer on a 1963 Corvette Split-Window Coupe