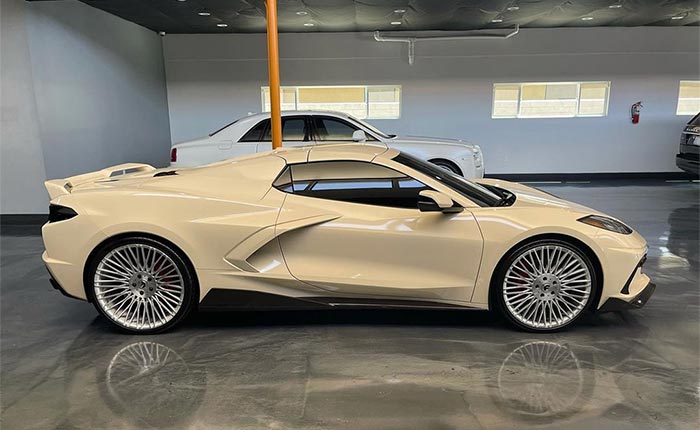 I first saw pics of this custom C8 Corvette over the weekend and finally traced it back to Champion Motoring on Instagram. The customized Corvette belongs to NBA player Jordan Clarkson who currently plays for the Utah Jazz. When I saw this was a professional basketball player's car, I immediately looked up his bio and he is listed as 6'4″, so kudos to the Corvette team once again for engineering a sports car for the bigger fellas.
We're not sure about the motivation in color change, but the new color reminds us of our old 1979 Corvette that was painted "Corvette Light Beige" with a tan interior. Clarkson's Stingray Convertible looks way better than that old C3 of ours but only because of the canvas he started with. Based on the Instagram tags, the car has been wrapped with the 3M color "Gloss Ivory" by Champion Motoring of San Diego who went the extra mile and even wrapped the door jams for a seamless look.

The Stingray Convertible's near monochrome visuals are broken up by the dark tinted windows and while the side intake "boomerangs" and the rear Z51 spoiler are also wrapped in Gloss Ivory. However, the Stingray's engine vent is carbon flash while the 5VM aero kit adds a bit of Carbon Fiber to the overall look of the car.
The Corvette Stingray was built with a 3LT trim package featuring a dipped Morello Red interior which does lend itself nicely to the Glossed Ivory exterior and while that look isn't something that excites us, we do like the staggered stance provided by the 21/22″ Forgiato custom wheels.

If the name "Champion Motoring" is ringing a bell, they also customized the C8 Corvette owned by hip hop artist Boozie whose car was Black with black wheels on one side and Arctic White with white wheels on the other.

Source:
Champion Motoring / Instagram

Related:
UK Basketball's Cauley-Stein Isn't a Fan of Red Corvettes
[PIC] NBA Star Carmelo Anthony Receives a Corvette Stingray for his 30th Birthday
[PICS] The Last Dance: Michael Jordan and His Corvettes