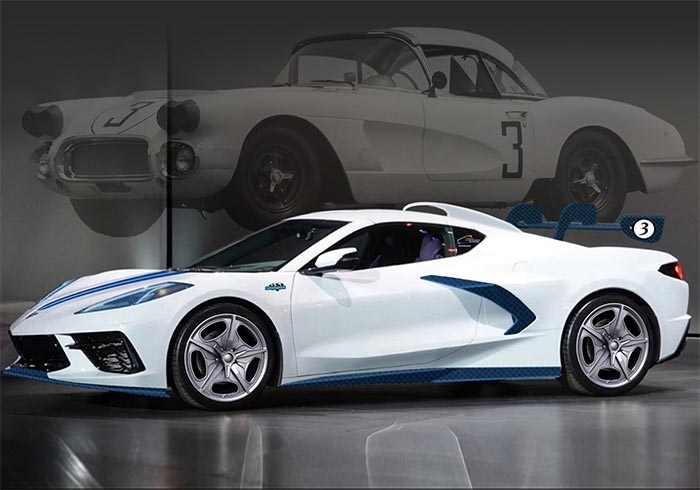 This week will be very special for our friend Lance Miller of Carlisle Events and the Chip Miller Amyloidosis Foundation as the 60th Anniversary Cunningham C8 Corvette will officially debut alongside the original Le Mans-winning 1960 Corvette on Thursday at the Amelia Island Concours d' Elegance in northeast Florida.
The all-new special edition C8 Corvette pays tribute to the three 1960 Corvettes campaigned by gentleman racer Briggs Cunningham at the 24 Hours of Le Mans. The No.3 Corvette would win its class and finish 8th overall. Sixty years in the making, the new Cunningham Corvette will be hand-built with just 60 examples set to be created. No. 33 has been earmarked for the Chip Miller Amyloidosis Foundation for their annual fundraiser with the car slated to be given away on October 1st.

"I'm very excited to see this car in person for the first time," noted Miller, CMAF president. "I am confident that it will turn heads as it prominently sits on display surrounded by blue-blood brands like Rolls Royce, Bugatti, Ferrari, Cord and more," continued Miller. "When you come to the foundation table, I look forward to talking with you about amyloidosis, the horrible disease that took my best friend and dad, Chip Miller, from us in 2004. I am also looking forward to your support by way of this sweepstakes. Entries range from 12 tickets for $25 to 2,800 tickets for $2,500 and many more options in between."
The new Cunningham 60th Anniversary Corvette is a modern-day marvel with the 495-hp LT2 engine featuring an upgrade to 600-horsepower by the equally-legendary Lingenfelter Performance Engineering. LPE equipped the C8 Z51 Coupe with a high flow carbon fiber intake manifold, along with high flow CORSA headers, and the exhaust and airbox are tuned by Lingenfelter as well. Other race-inspired equipment include the HRE forged wheels wrapped in Michelin rubber, and a Paul Stevens-designed bespoke aero kit to help to keep the car planted at high speeds while the Cunningham/MOV'IT performance brakes provide plenty of stopping power.

Inside the Corvette Coupe is a 3LT trim package upgraded with Cunningham Competition Sport bucket seats swathed in Blue leather while the Cunningham logo and the build number are embroidered on the headrest.
The Cunningham 60th Anniversary special edition C8 will debut on Thursday, May 20th and will be on display through May 23rd at the Ritz Carlton on Amelia Island. The Chip Miller Amyloidosis Foundation will have an information table set up at the display and you'll be able to talk with Lance while also checking out the original No.3 1960 Cunningham Corvette that started the model's winning traditions at Le Mans so many years ago. Here's a quick look at that car:

Amyloidosis is a rare disease in which amyloid proteins deposit and accumulate in the body's organs and tissue. Just 3,000 Amyloidosis cases are diagnosed in the United States each year. It affects middle-aged people and older, and men are more likely to be affected than women.
The drawing will take place on October 1st, 2021 and you need not be present to win. To be entered to bring home this limited-edition 60th Anniversary Cunningham C8 Corvette, all you have to do is to make a donation to the Chip Miller Amyloidosis Foundation. CorvetteBlogger readers can get 30% bonus entries on ticket orders of $25 or more.

Source:
Chip Miller Amyloidosis Foundation