Back in March we first told you about Collectors Xchange (CX) and their all-new approach to online collector car auctions. Their goal is to disrupt the auto auction space through personal service and technology. Collectors Xchange is creating a new collector car marketplace designed with user-friendly features while injecting as much transparency as possible.
Things are up and running now and one of the first Corvettes up for grabs is this sensational unrestored Rally Red over red vinyl 1967 427/435 coupe. It was delivered new at Rost Chevrolet in Independence, Missouri. Since then it's traveled a scant 28,000 miles and remains in remarkable unrestored condition.

The car is nicely equipped with power brakes, M21 close ratio 4-speed transmission, transistor ignition, power steering, positraction rear end, and the thumping L71 427 putting out 435hp. The exterior still wears its original Rally Red paint which coordinates perfectly with the original red vinyl interior.
Over the years, this car has achieved many of our hobby's highest honors. Awards include multiple NCRS Top Flight awards in addition to Bloomington Survivor, Gold, and Benchmark awards. All judging sheets and awards go with the car. Most of its life has been spent inside multiple notable Corvette collections.

A stack of paperwork and documentation accompanies the sale as well. Among the provenance included there's the NCRS Shipping Data Report, the original window sticker, the selling dealer envelope for the sales invoice, the Protect-O-Plate, original books, the radio guide, and even the owner's bag. The all-important tank sticker still sits atop the gas tank. Additionally, the engine stamp pad, trim tag, and VIN tag have all been validated by noted expert Al Grenning and his CCAS service.
One of CX's unique features is their Vehicle Report which documents all aspects of a given car. When reviewing this C2's 3-page report we note that everything works on the car and that all mechanical items are listed as a Pass. It also notes the car starts and idles as it should while all the gauges function properly. A couple of minor fluid leaks are noted which is quite common for a 54-year old, unrestored vehicle. At the bottom of the form they rate the condition of all areas of the car on a 1-4 scale with one being best. All categories are listed as a 2 or 3 which translates to good or very good. Again, all very common and what we'd expect for a highly decorated unrestored car.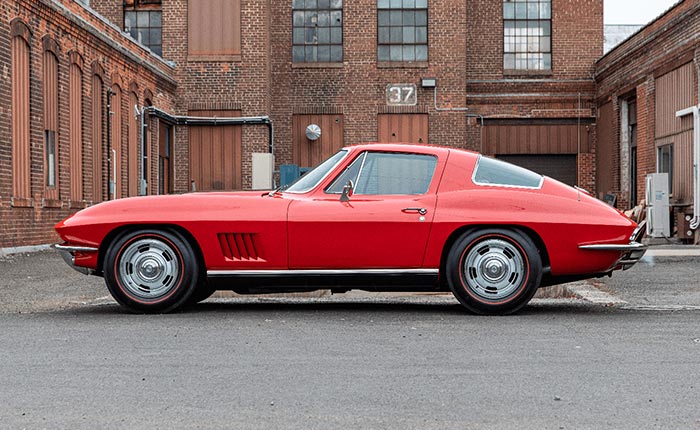 The auction listing is now live and bidding is currently standing at $120,000. The auction has a little over four days to go so you've got plenty of time to get your finances in order so you can put this time capsule 1967 Corvette in your garage. Head on over to Collectors Xchange to check out many more photos, its awards, and even a short video discussing this amazing Corvette. Then don't forget to head over to the App Store or Google Play and download the CX app.

Source:
Collectors Xchange