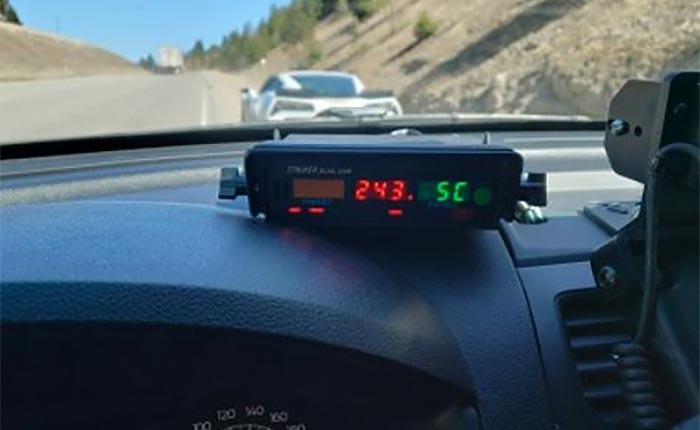 Photo Credit: BC RCMP

They mean business when it comes to speeding on roads in Canada.
Just ask the driver of this Blade Silver C7 Corvette coupe.
British Columbia Royal Canadian Mounted Police pulled him over on Saturday for going twice the speed limit on the Coquihalla, a major road which connects the southern Trans-Canada route with the northern Trans-Canada/Yellowhead route.
The troubles have just begun for this driver, who faces a day in court, had his Corvette impounded, and could be eyeing other serious penalties. On the bright side, maybe the offense saved his life.
According to provincial statistics, an average of 115 people die every year in the province in crashes involving high-risk driving. RCMP spokesman Cpl. Mike Halskov says injuries and death caused by such driving can be prevented.
"Driving is a privilege and B.C. is a leader when it comes to holding drivers accountable for their actions," he said. "Police remind motorists to obey speed limits, wear seatbelts, drive sober, and distraction-free every time you get behind the wheel."
According to Halskov, the Corvette driver was issued an Appearance Notice for excessive speed, meaning that he must appear in court, where, upon conviction, penalties may be significantly higher than the maximum fine allowed by serving a ticket.
"In addition, the vehicle was impounded," Halskov said, "and the officer is considering other options, including submitting a High Risk Driver report to RoadSafetyBC requesting a lengthy driving probation."
The incident occurred while an officer with BC RCMP Traffic Services in Merritt was conducting speed enforcement on Highway 5 (the Coquihalla). He clocked the northbound Corvette traveling at 243 kilometers per hour, or 151 miles per hour.

Source:
radionl.com

Related:
C8 Corvette Impounded by Canadian Authorities for Speeding at Twice the Limit
Speedy Corvette Driver Arrested After Being Clocked at 155 MPH on I-10 in Phoenix
New C4 Corvette Owner Arrested and His Car Impounded Following High Speed Chase