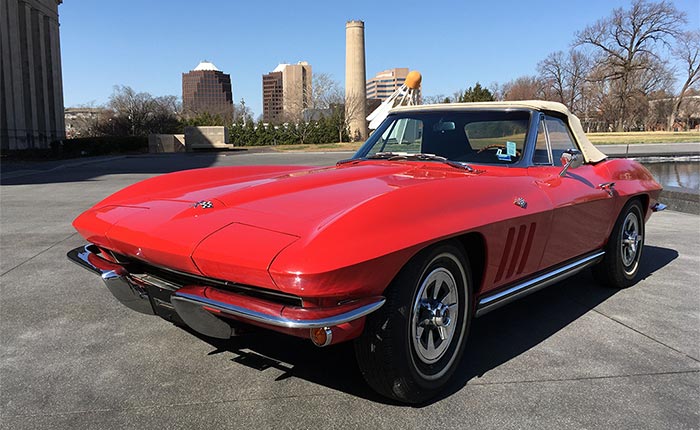 We've shown you plenty of survivor Corvettes over the years, but perhaps few with a backstory as interesting as this one.
This Rally Red 1965 Sting Ray convertible, up for sale on Hemmings Auctions, was owned for the first 55 years by the same woman. She drove the Corvette just 27,820 miles from June 7, 1965 until 2020 when it was sold to the current seller, whose mother was her best friend.
According to Hemmings, with the exception of a few minor maintenance items, the car remains an untouched, low-mileage survivor, with any replaced parts retained for the next caretaker.

Mechanically, this Sting Ray features its original base 327/250 horsepower small-block V8 engine with a Carter four-barrel carburetor rebuilt last year. It still starts easily with no visible exhaust smoke. The seller repaired an oil leak last month with a new gasket on the oil filter housing and says he's noticed a little brake fluid on the floor "every couple weeks." He also fixed "a very minor leak" in the power steering system by replacing the power steering ram and two high-pressure hoses. The steering is described as "tight" now, and the car is said to track well. The brake master cylinder also was replaced in 2015. The original M20 four-speed manual transmission, meanwhile, is said to shift like new.

The original paint remains in good shape, with the seller pointing out just a few small chips the size of the head of a pin. Likewise, the original white soft top remains in good condition with a clear rear window and relatively few wrinkles in the canvas. The glass remains "very good" except for a wiper scratch on the passenger side of the windshield.
Inside the car, the black imitation leather upholstery is described as remaining in excellent original condition with no tears or issues, though the original carpet has a slight tear on the driver's side near the door. While the gauges work, there are some small age cracks on the faces. The original radio stopped working but was retained after being replaced with a new Bluetooth-capable unit.

Elsewhere, as you might expect on an unrestored example, the car isn't in showroom condition underneath, with the typical minor surface rust present. The whitewall tires were replaced six years ago and have been used minimally since, but likely would need to be updated again for safety purposes. The original wheel covers still look good in photos.
While this Corvette isn't in perfect condition, it's a testament to the apparent love that the original owner had for her vehicle over its 55 years. Would you go the extra mile and get the car back to perfect condition, or more likely leave it just as it is and tenderly carry on with its care?

Source:
Hemmings.com

Related:
Corvettes for Sale: Survivor 1972 Corvette on Bring A Trailer with Cool Backstory
Corvettes for Sale: 65-Mile 2019 Corvette ZR1 Asks $200K
Corvettes for Sale: 2002 Corvette Convertible 6-Speed with 320 Original Miles