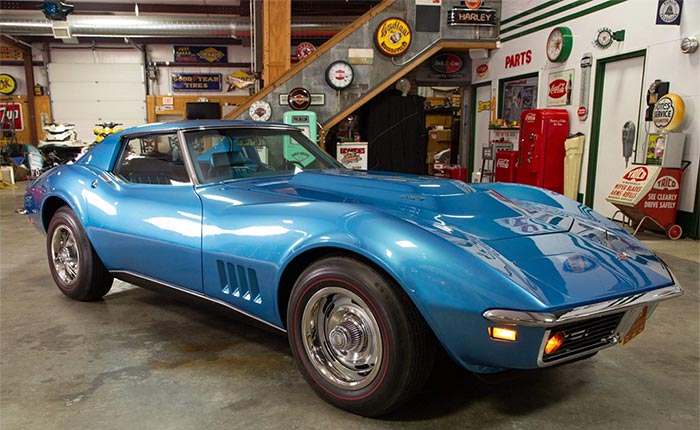 Well, here we go again. Fresh on the heels of the $610,000 1969 L88 that sold a few weeks ago, another C3 L88 has hit Bring a Trailer. This time we've got an award-winning Lemans Blue over blue 1968 coupe up for bids. As of this writing, the bid stands at $200,000 with 5 days to go yet.
This particular L88 met its first owner at Jack Douglass Chevrolet of Hinsdale, Illinois. It's one of just 80 produced in 1968. In total, only 216 L88-equipped Corvettes were produced over its 3-year life span. As we all know, the L88 engine was notoriously underrated at 430hp to sidestep insurance companies and is widely believed to produce upwards of 560hp.

According to the auction listing, this C3 L88 is also equipped with an M22 4-speed transmission, F41 heavy duty suspension, J56 heavy duty brakes, N11 off road exhaust, transistor ignition, tinted glass, posi rear end, and more. The exterior is finished in stunning Lemans Blue over a complementary blue vinyl interior. The odometer shows just 17,000 miles.
The car has been lovingly restored to showroom condition and over the last decade or so it has laid claim to nearly all the top awards in our Corvette hobby. To date, it has taken home 3 NCRS Top Flights, a Performance Verification, and the coveted Duntov Mark of Excellence. Additionally, it's Bloomington Gold Certified and has also claimed MCACN Concourse Gold and Triple Diamond honors. Nearly all of the judging sheets can be seen in the Bring a Trailer listing. We applaud sellers for including these sheets in their ads as they offer a way to easily document every part and function to prospective buyers.

As one would expect with a car of this caliber, its pedigree is heavily documented with the tank sticker, Protect-O-Plate, window sticker, and all those judging sheets. Looking at the photos we see what is essentially an as-new 1968 L88 corvette. All areas of the car appear to be in flawless condition. Remember we always recommend an in-person inspection before dropping some serious cash on any old car.
One must wonder if the seller saw that $610k L88 sale last month and decided to strike while the fire was hot. At $210,000 we sure this one has a long way to go yet. We're guessing that we probably won't see $610k again this time, but this car's condition and pedigree will make very desirable to many high-end collectors. If you got the funds, get your banker on the phone now as the auction wraps up early next week.

Source:
Bring a Trailer

Related:
1969 Corvette L88 Sells For $610,000 on Bring A Trailer
Corvette Mike's 1967 Corvette L88 Coupe is Up for Grabs at Mecum Glendale
Corvettes for Sale: James Garner's 1968 A.I.R. L88 Corvette