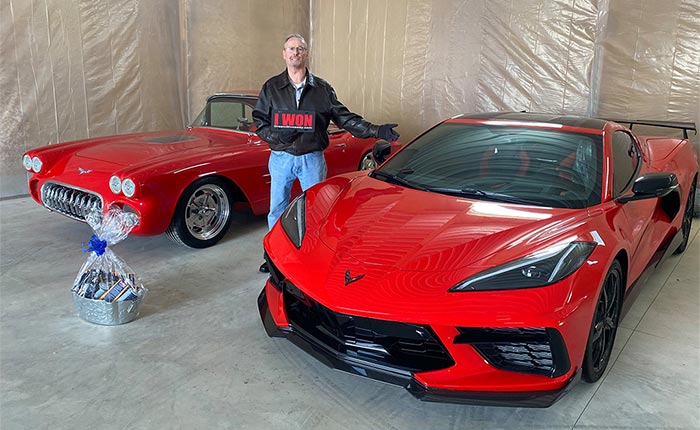 Earlier this year we passed along the exciting news that the winner of the 2020 Corvette Dream Giveaway had been selected. In mid-January, Henry Reus of Illinois received the call from Chris and Boomer at the Dream Garage that he had won a 2020 Corvette Z51 Coupe, a 1962 Corvette Restomod, plus a check for $45,000 to help pay the taxes.
Normally, the winner is flown down to Clearwater, Florida where the prizes are awarded in person, but unfortunately, that event was canceled due to the COVID pandemic.
Henry still gets to celebrate though even if it is at home, and yesterday our friends at the Dream Garage posted this photo of Henry with his two new cars and a nice winners basket filled with goodies!
We are sure that Henry will be able to enjoy his two new Corvettes on the road soon, and now the hard decision on which Corvette to drive will be his and his alone.
Here is the message that the Dream Garage posted to Facebook:
Now that things thawed out a bit up north, we received a photo from the 2020 Corvette Dream Giveaway winner Henry Reus. He received his two Vettes safe and sound!

We are sure he can't wait get those on the road when the weather is great! One more big congrats to him.

See who won every Corvette Dream Giveaway since 2008 at www.dreamgiveaway.com/winners.

Enter to win your favorite current Dream Giveaway promos while helping out worthy causes like Henry did and you may end up being one of our next big winners!
The Dream Garage actually has two Corvette fundraisers happening this year. This 1966 Corvette is a real-deal 427/390 V8-powered car with factory air conditioning. You can receive DOUBLE ENTRIES on ticket packages of $25 or more!

For the 2021 Corvette Dream Giveaway, the Dream Garage has paired a new 2021 Corvette Z51 Coupe in Silver Flare with a 1961 Corvette Restomod powered by a modern-day LS3 rated at 525 horsepower! CorvetteBlogger also get DOUBLE ENTRIES so get your tickets today. Like all Dream Giveaways, they are offering $43,000 in cash to help pay the winner's taxes.

As we like to say about these fundraisers, "The cars are real, the winners are real, and the check to pay the taxes is real". If you like the idea of donating to charity and perhaps winning a new Corvette or two, visit the Corvette Dream Giveaway and get your tickets today!

Source:
Corvette Dream Giveaway

Related:
[VIDEO] Watch as the Corvette Dream Giveaway Makes the Call to the 2020 Grand Prize Winner
These Two Incredible Corvettes Can Be Yours in the 2021 Corvette Dream Giveaway
Win This Big Block 1966 Corvette From the Corvette Dream Giveaway