Our friends at the MidEngineCorvetteForum.com have a great thread on the new exterior color Red Mist for the 2021 Corvette and members have been sharing some new photos and even a video walkaround of a new C8 Corvette in the bright red color.
Corvette owners have had some great Reds to choose from over the years and we have no doubt that Red Mist will dramatically outsell the color it replaced, Long Beach Red, which was the 3rd least popular color for the 2020 model year as it was only on 1,068 Corvettes, which represents 5.25% of production.
Photo Credit: 455SDguy

Members of the Corvette Team have told us that Red Mist has more metallic flake in the color than previous metallic exteriors like the C6's Crystal Red. Corvette Chief Engineer Tadge Jucheter has professed his appreciation for the new color, liking it so much that he ordered his 2021 CFT Convertible in the color.
What we like about the car is that it appears to show off its metallic properties even when there is little sun available. Unlike the Long Beach Red which becomes extremely muted in the shade or at night time, Mist Red appears bright even on overcast days.
Here's a walkaround of the car that shows how Red Mist changes depending on your view:

We've heard a lot about how much "travel" there is in the Silver Flare exterior, and Red Mist has some of that as well.
In this different set of photos, here's the VIN 007 Silver Flare Corvette out on the town in Bowling Green and perhaps he ran across Bowling Green Assembly's Kai Spande, who has been spotted previously driving a pre-production Red Mist HTC.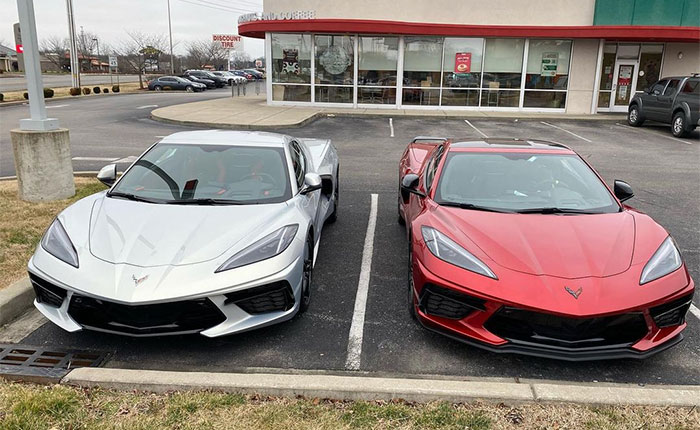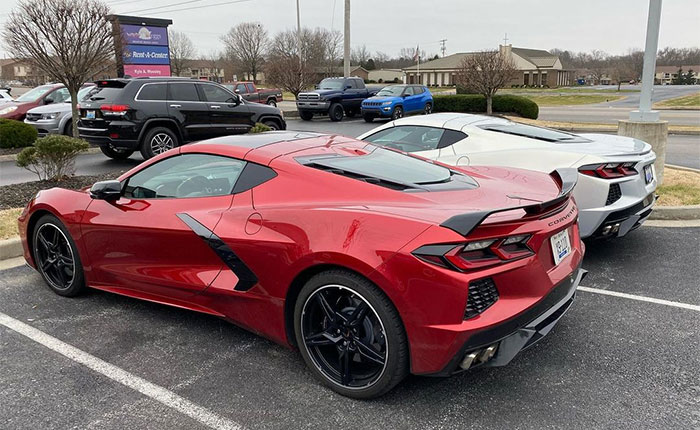 Photo Credits: National Corvette Museum

Speaking of Silver Flare, just as was about to publish this article, I received this Silver Flare walk-around video from 007's owner. Great timing as always!

Source:
MidEngineCorvetteForum.com

Related:
[VIDEO] 2021 Corvettes in Silver Flare and Red Mist Together at the Corvette Assembly Plant
[VIDEO] Red Mist 2021 Corvette Sparkles in the Sun
[PICS] Red Mist 2021 Corvette at the Corvette Assembly Plant