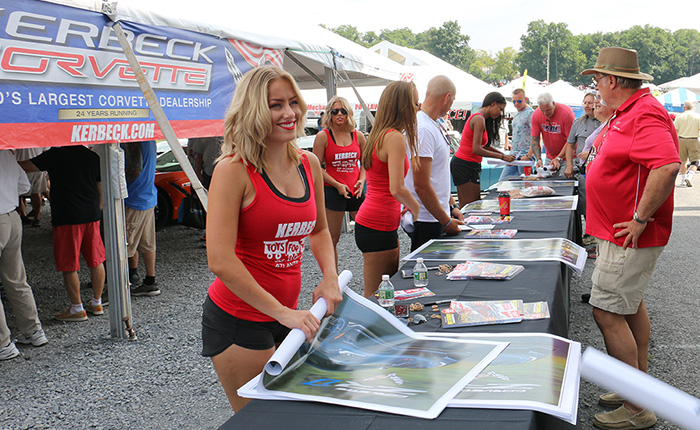 Photo Credit: Keith Cornett

If you've been a regular attendee at Corvettes at Carlisle over the years, then we are sure you are familiar with the fabulous Corvette posters handed out at the Kerbeck Corvette display by an equally-impressive cadre of attractive ladies. Kerbeck shares a new poster annually at Carlisle and has created other posters like the one for the C8 East Coast Reveal that happened at the dealership last August.
The annual Corvette poster giveaway has been around since Kerbeck first earned the title of the World's Largest Corvette Dealer back in the mid-1990s.
Our good friend Jeff "Zipity" Duda is the owner of 2004 Commemorative Z06 and was previously the 2019 National Chairman of the Corvette Caravans to the NCM. Like many of us, he used some downtime to his advantage and decided to document some of the Kerbeck Corvette posters he has collected over the years. His collection of posters are spread throughout his home and he says that not even Kerbeck has some of the older posters given away during the 1990s.
It's fun to see all those Corvette posters displayed in Jeff's house and especially the older ones that came before us. Jeff says that his new YouTube channel will be used to document his Corvette obsession which is plain to see from all the stickers in his garage. We got a laugh during the intro of his video as we saw a sticker over his shoulder for the now-defunct club "Corvettes Anonymous" that we also belonged to in the early days of the blog.
From Zipity's Garage via YouTube:

If you enjoyed this video, please visit Jeff's YouTube channel and "like and subscribe" to keep up with his latest videos.

Source:
Zipity's Garage

Related:
1967 Corvette Le Mans Racer Serves as Inspiration for Monterey Reunion Poster
Corvette Movie Poster: High Rolling in a Hot Corvette (1977)
[VIDEO] The East Coast Reveal of the 2020 Corvette Stingray at Kerbeck Corvette