Back in 2010 the restomod scene was just starting to get its legs under it. Builders and enthusiasts were beginning to see the allure of a classic car with modern underpinnings. Traditionally, builds begin with an older car and all the late model components are subsequently added in. Des Moines, IA based Karl Kustoms, however, took a slightly different approach.
They began by taking a stock 2010 Corvette Grand Sport coupe, added on a replica 1963 coupe body, and then added more cowbell to the powertrain. The handsome result can currently be found on Hemmings Auctions.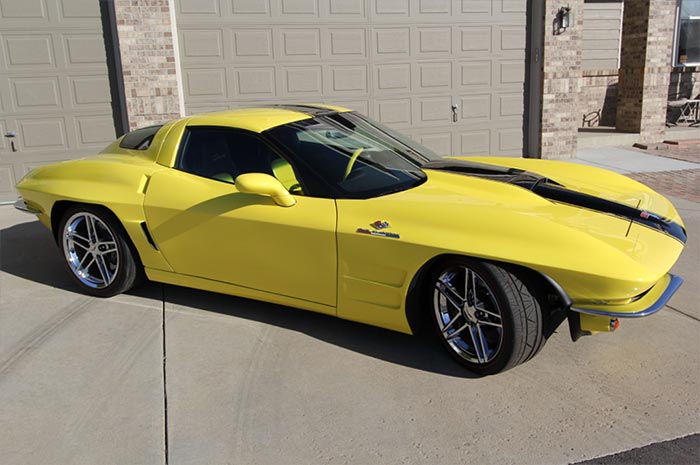 The 1,500-mile Velocity Yellow example currently up grabs began life as a basic Grand Sport coupe with the popular 3LT option package. The car's transformation was completed about 10 years ago and it has only traveled 250 miles since then. The metamorphosis began by adding 1963 inspired body panels, chrome front, and rear bumpers, and C2 retractable headlights. The hood received a 1967-style scoop and stinger stripe. Don't forget the iconic split rear window out back.
The interior modifications are simple and clean with two-toned yellow and black accents on the seats, steering wheel, and center console. Everything else is standard 3LT Grand Sport including the Bose stereo, HUD, and heated seats.

The real magic happens under the hood where the Karl Kustom crew added an Edelbrock E-Force supercharger to the stock LS3. Output now resides right around 600 horsepower. All that juice is routed through the stock 6-speed automatic transmission. The standard Grand Sport suspension keeps the car planted and the whole package rides on chrome Z06 wheels wrapped with cool redline tires.
Throughout the ad, the seller states that there are no known issues with the car and that everything works properly. There are no leaks underneath and no curb rash on the wheels. Based on the photos and ultra-low mileage we agree with the description. It presents in as-new condition.

Overall, this is a well-executed tribute to the 1963 Corvette. The proportions are appropriate and visually it's exactly what one would expect from the love child of a C2 and a C6 – right down to the fuel injection emblems on the front fenders.
As we write this, bidding stands at $86,000. The reserve has not yet been met even though the current bid is roughly double what a regular 2010 Grand Sport would cost on the secondary market today. If you'd like to put this cool C6 in your driveway, bid now as the sale ends this Friday at 6:30pm.

Source:
Hemmings Auctions

Related:
[PIC] A Retro Corvette Stingray Rendered with a Touch of Camaro
Corvettes on eBay: Pair of Retro C1 Corvettes
Retired GM Designer Creates Future Concepts Based on Retro Classics