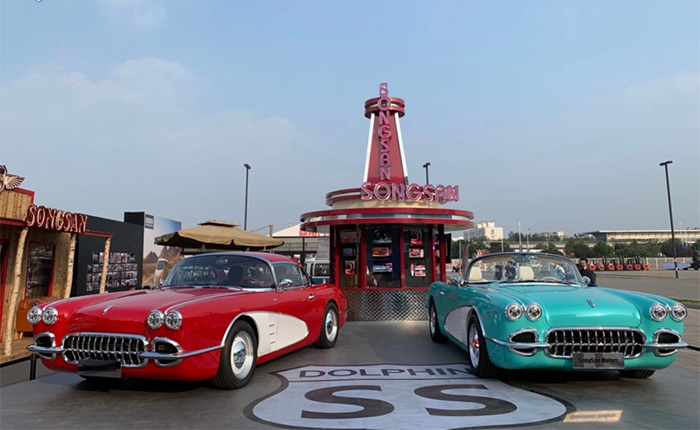 Photo Credit: CarNewsChina.com

So the Beijing Motor Show is happening this week and one car you are going to be hearing about is from SongSan Motors and their C1 Corvette knock-off known as the SS Dolphin.
The Dolphin showcases the retro looks of the 1958 Corvette roadster but underneath that sheet metal is actually a plug-in hybrid with a 1.5L turbo engine combined with an electric motor for a total output of 315 hp. The plug-in hybrid can propel the roadster from 0-60 mph in about 4.9 seconds and has a total range of 342 miles.
We want to dislike (really) this obvious Chinese knock-off as a poorly-designed copy-cat of the '58 Vette, but perhaps there is more to the story.
Photo Credit: Carscoops

We know that the Chinese auto market looks to the west for design inspiration and the iconic C1 Corvette roadster design embraces a "cool-chic" that probably plays well behind the Great Wall. Look no further than SongSam's website for the Dolphin which contains photos of Hollywood actors including Tom Cruise, Brad Pitt, Johnny Depp, George Clooney, and even Kendall Jenner driving their classic (and real) C1 Corvettes.
They say that imitation is flattery, so we'll consider these to be "tributes" to the Corvette as opposed to copycats, even as we find the side view and front end to be absolutely awful when compared to an actual '58 Corvette. Some of the proportions of the car are different than the original with the Dolphin being 11.8 inches longer and 3.4 inches taller. Yet other parts of the car turned out pretty well like the rear end with the exhaust port and trunk spears. The car also features a wrap-around windshield and inside is a "floating" infotainment system mounted to the dash. A hardtop is shown on one of the cars and it's said that the top can be stored in the rear trunk for that open-top driving experience.

Pricing for the SS Dolphin begins at ¥590,000 (or $86,613 USD).

Source:
Carscoops.com

Related:
[PICS] The Mid-Engine C8 Corvette is Given a C1 Makeover Complete with Chrome and Coves
Retired GM Designer Creates Future Concepts Based on Retro Classics
Japanese Automaker Mitsouoka Pays Tribute to C2 Corvettes with These Mazda Miata Conversions