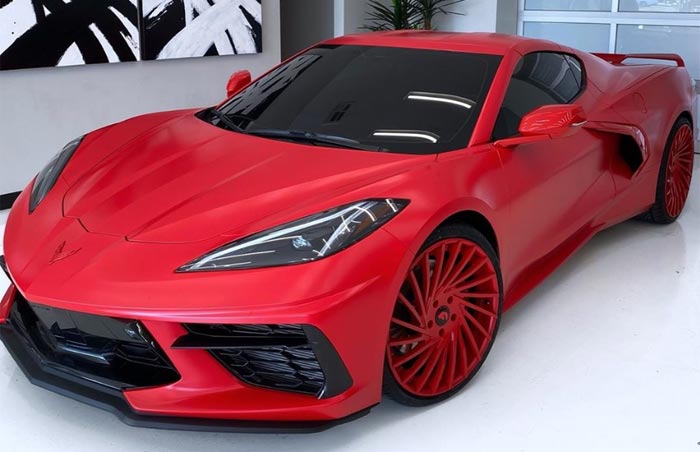 Today I was flipping through Instagram and found this pretty redhead posted by Ashworth Barnes of 713 Motoring in Houston. As today is technically #WheelWednesday, let's take a closer look at this customized 2020 Corvette.
African-American fashion designer Iassic Moore originally ordered the 2020 Corvette in Black and took delivery of it back in early July. The Stingray has since been transformed with a whole new look thanks to a Matte Red wrap. Mr. Moore also updated his ride with a new set of custom wheels and went with Forgiato and their Ventoso custom wheels in matching Red for this head-turning look.
As we take a walk around the car (use the arrows in the Instagram post below), the only black now found on the car appears on the front and rear fascias. While normally this might feel like too much red, the color contrasts nicely against the heavily tinted windows. We also appreciate the red-wrapped Stingray emblem on the rear deck as well as red CORVETTE lettering just above the license plate.

Like what you see here on Mr.Moore's 2020 Corvette? Let us know in the comments below!

Source:
713ab / Instagram

Related:
[VIDEO] C8 Corvette Wearing Vossen's Black HF-5 Wheels
[PICS] Black 2020 Corvette Rides on Vossen EVO5-R Custom Wheels
[PIC] 2020 Corvette Stingray on BBS CI-R Custom Wheels