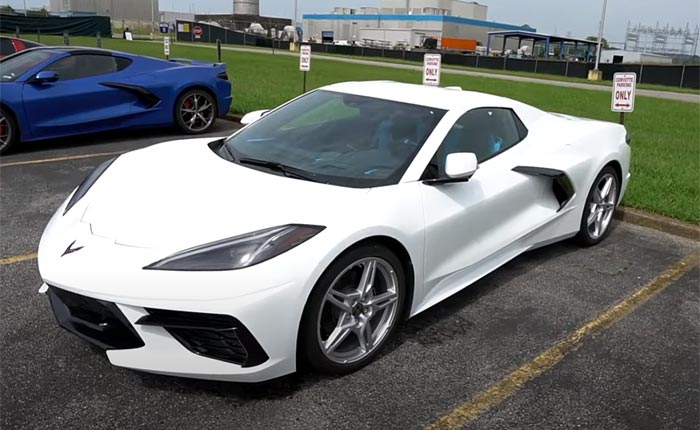 Now that the 2020 Corvette Convertibles are being produced and shipped to dealers, we are just now starting to see some of the various color combinations available to buyers. Because of the COVID shutdowns, the number of different colored Convertibles we have actually spied has been limited, so we're enjoying the discovery of checking out the newest Corvette model in the 12 available colors.
As we've discussed previously, the hardtop convertibles offer several different looks as you can customize the color of the rear nacelles and roof. Those combinations include body-color nacelles, black nacelles only, or a black roof with black nacelles.
Our friend Byron Glover, Jr of the YouTube channel Drive 615 was recently passing through Bowling Green and took a swing by the Corvette Assembly Plant where he found several examples of America's Favorite Sports Car parked at the facility including a couple new Convertibles.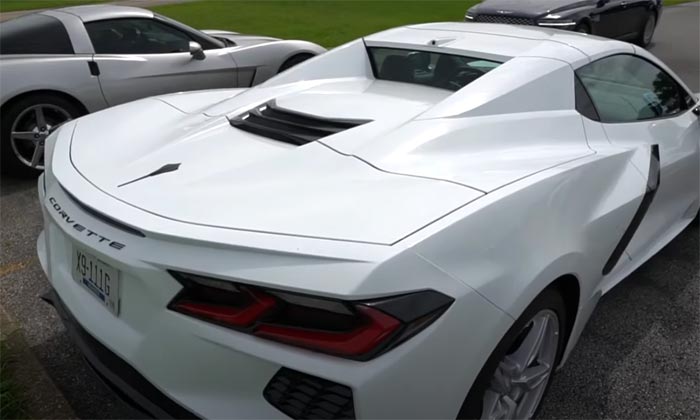 Aside from the fact that Byron gives us a shoutout at 8:18 in the video, we choose to highlight his video as one of the new Corvettes spotted is an Arctic White Convertible with the two-tone Blue interior. It's a 3LT car without Z51, and the roof and nacelles are all white, or body-colored as the nacelles option is described. The only contrast comes from the black vents and the boomerang on the side intake, the Carbon Flash emblems, and the silver aluminum open-spoke wheels.
The white-out look on the hardtop Convertible with the Arctic White nacelles is quite bright under the sun, and while we do like to see a little more contrast with the lighter colors in the Corvette color wheel, we imagine with the top down we would also be feeling the vibes from the Tension Blue seats.
Check out the walk-around video from our friend Byron at Drive 615:

Byron will have another 2020 Corvette Convertible video coming up shortly so make sure you watch for it! Do you like the white-out look of this Arctic White Convertible? Let me know in the comments below!

Source:
Drive 615 / YouTube

Related:
[VIDEO] Four Minutes of Glorious Exhaust Sounds from the 2020 Corvette Stingray
[VIDEO] First Drive in the 2020 Corvette Stingray with YouTube's Drive 615
[VIDEO] View this Incredible Collection of 2020 Corvettes at the Assembly Plant