The arrival of the 8th generation ushered in the era of the mid-engine Corvette and with it came the ability to further personalize the cars. The new paint shop inside the Corvette Assembly Plant unlocked two additional exterior choices for buyers, bringing up the total choices to 12 colors. Three new colors were offered and they were Rapid Blue, Accelerate Yellow, and Zeus Bronze.
CorvetteBlogger contributor Alex Sommers was thinking the C8 Corvette needed a proper shade of green to boost the C8 Corvette's supercar status way back in November 2019, but it has taken a real-life example to make us see the light.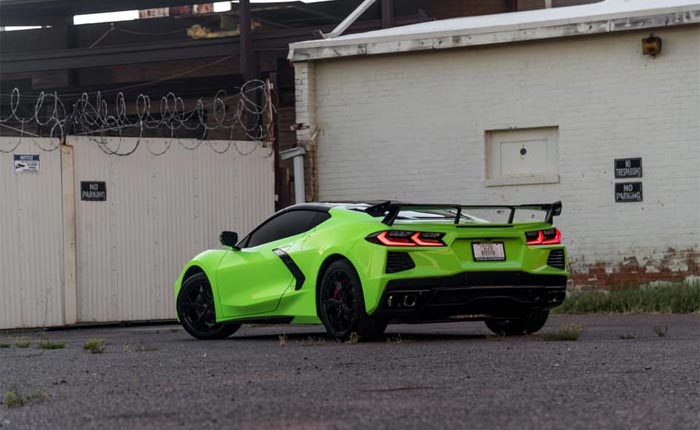 This 2020 Corvette Stingray originally arrived in Black and the car's owner posted these new photos to the C8 Corvette Facebook group after he had it wrapped in "Acid Green". The color looks absolutely stunning on the C8 Corvette which still has its body-colored (black) exterior trim and the optional High Wing spoiler.
Most wraps cover just the exterior and sometimes you can get a surprise when opening the doors which reveals the car's original exterior paint on the door jams. But as this car was painted Black, it looks great when the doors are opened: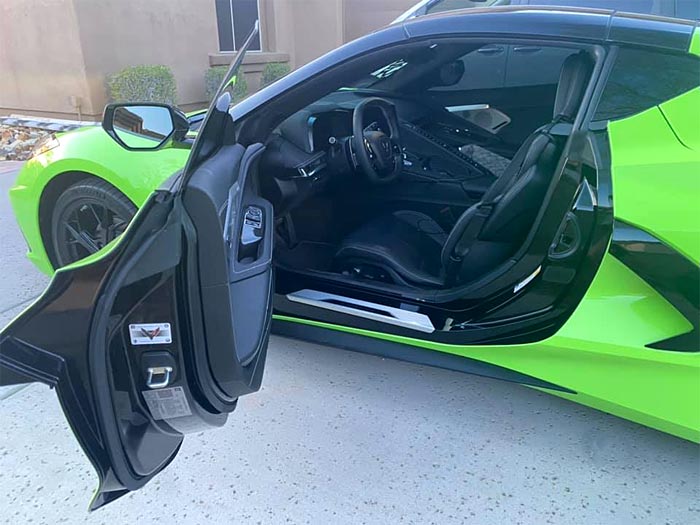 The wrap job was done by EA Wraps in Scottsdale, AZ., and the product they used on the Corvette was a new Acid Green super gloss film by Inozetek USA.

Source:
Joey Annoreno / Facebook

Related:
Colors We'd Like to See on the C8 Corvette: Spitfire/Krypton Green
Colors We'd Like to See on the C8 Corvette: Rally Green Metallic
Colors We Would Like to See on the C8 Corvette: Purple!