Magnussen, Rockenfeller complete trouble-free run at Six Hours of COTA
AUSTIN, Texas (February 23, 2020) – Corvette Racing ran another trouble-free event in the second race for the new Chevrolet Corvette C8.R on Sunday with a sixth-place class finish in the FIA World Endurance Championship's Six Hours of COTA at Circuit of The Americas.
Jan Magnussen and Mike Rockenfeller, each making their first starts in the mid-engine No. 63 Mobil 1/SiriusXM Corvette C8.R, completed 170 laps for 570 miles in the highly competitive GTE Pro category. Despite lacking the same outright performance as the other manufacturer teams in the class, the Corvette Racing program still went away from the weekend with a significant amount of data and notes that will be applied to the C8.R ahead of its next event at Sebring International Raceway in March.
Sunday's run was in addition to a successful debut for the Corvette C8.R in the Rolex 24 At Daytona where the No. 3 Corvette completed more laps and miles than any previous Corvette in race history.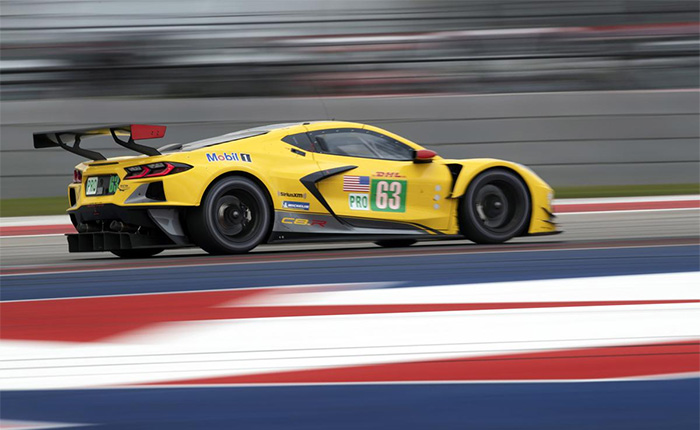 On Sunday, Magnussen drove the first two stints in the car and was able to overtake two cars in his opening run. He drove more than an hour in each of his stints before handing over to Rockenfeller, making his first appearance at the COTA circuit. He drove the middle three stints before Magnussen closed the race with the final run in the Corvette.
Neither driver made a mistake on track, and the Corvette Racing pit work turned in its usual exemplary performance. That provided program engineers ample data to study with the aim of contending for victory at upcoming races in both the FIA World Endurance Championship and the IMSA WeatherTech SportsCar Championship. Fuel usage, engine and tire performance, and chassis settings were among the many areas where the team will further study and dissect data.
Corvette Racing will compete in both series at the upcoming Super Sebring weekend March 20-21 – the Mobil 1 Twelve Hours of Sebring for IMSA and the 1,000 Miles of Sebring for FIA WEC.

JAN MAGNUSSEN, NO. 63 MOBIL 1/SiriusXM CHEVROLET CORVETTE C8.R:

"Obviously we were very far off the pace, but we have learned and taken things away from this experience with the new Corvette. For sure we were down on power but there are other areas where we can improve. In a race like this, you have a chance to play around a little bit with different setups and you can try some different things… look at what other teams are doing, how the other cars are handling, where they are strong and where we need to be stronger. As tough as this race was, I'm excited for Sebring. It should be better with the things we've taken away from this weekend."
MIKE ROCKENFELLER, NO. 63 MOBIL 1/SiriusXM CHEVROLET CORVETTE C8.R:

"I think it was good first experience for me to be in the new Corvette. It was first time at COTA so obviously a lot of new things to learn. The C8.R ran pretty well. There were no issues technically. I'm sure operationally, it is always a new rhythm so that is why we are happy to do these WEC races to get up to speed again. Here and there we can improve. I'm sure we will make improvements and we will make a step for Sebring. Obviously we were lacking pace; that was quite obvious the two days. There was not much we could do. We did everything we could. We tried to learn. We tried to do different things in the race. We tried to stretch fuel in the stints and we did one stop less so that was good. Clearly we need more pace for Sebring, and I am looking forward to that. I don't think there was too much negative except obviously not the result we were aiming for. But the goal was not to win the race, it was really was to go through to see where we can improve and then at Sebring see if we have a shot."

Source:
Corvette Rac‌ing

Related:
Corvette Racing at COTA: Positive Steps Forward for Corvette C8.R
Links and Info to Follow the Corvette C8.R at the FIA WEC's Lone Star Le Mans
Corvette Racing at COTA: Next Steps in Corvette C8.R Development