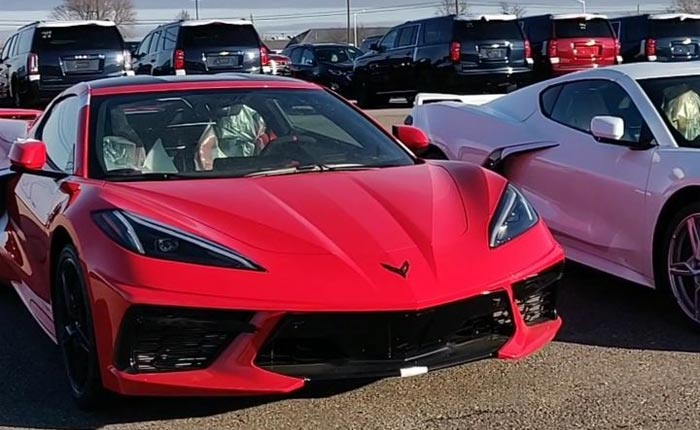 Although customer-ordered C8 Corvettes are just now hitting the assembly line, Chevrolet has been building the 2020 Corvette Stingrays for the last couple of months.
The word on the street is that some dealers will be receiving "stimulus" Corvettes for sale. These Corvettes were produced at the end of the Captured Test Fleet (CTF) run and have the same VIN structure as those pre-customer cars. The top volume dealers will get three stimulus Corvette while others will receive just one. Dealers can sell that extra stimulus allocation however they wish.
So I'm thinking that these Corvettes you see here might be part of that stimulus program or it could be a GM location receiving CTF cars. Either way, this is most C8 Corvettes I've seen together in one location. Let's just call it Corvette Heaven!
A user on Instagram named beezee522 captured this group of 15 new mid-engine C8 Corvettes lined up in a row with different colors represented. And we spy another 10 that are wrapped and stacked on an auto transport behind them.

Yep! It's definitely Corvette Season!

Source:
Instagram

Related:
[PICS] The 2020 Corvette Stingray Was a Hit at the Tokyo Auto Salon
[VIDEO] Every Color of the 2020 Corvette Stingray Shown on the Road and Under Lights
Customer Ordered 2020 C8 Corvette Production Already Began…Has Begun…Will Begin Soon!