One of the first Corvettes I can remember seeing up close was a red 1969 convertible that a neighbor's son-in-law was fortunate enough to drive.
Being a Corvette-crazy youngster, I drooled over that car every time I saw it, and that may be one reason this barn find '69 currently up for sale on craigslist caught my eye.
While it's not red like the one from my childhood days, this Riverside Gold survivor is nevertheless one eye-catching beauty, with its Coke-bottle curves capped by the iconic chrome bumpers on both ends.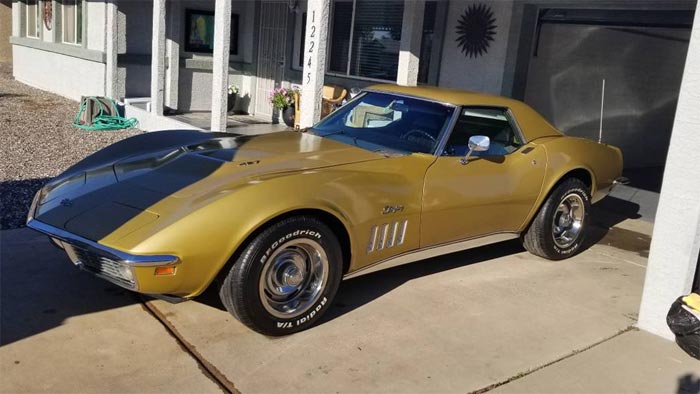 Just like the Apollo spacecraft that took the first astronauts to the moon that year, this one definitely has the "right stuff" as it's powered by a numbers-matching big block 427 engine producing 390 horsepower, hooked to a 3-speed Turbo Hydramatic automatic transmission.
The listing doesn't give many details, but we are told that it's a barn find, rust-free (no surprise since it's located in Sun City, Arizona) Corvette, with only 64,000 miles on the odometer. We'd like to get more proof of that mileage for future resale, but based on the condition of the car in photos, it looks like that claim could well be true. The black interior appears to be in nice shape, with only minor wear issues to be expected after 51 years.

The car also has power steering and power brakes, along with a tilt-tele steering wheel, and remains "bone stock" according to the seller, with the exception of MSD ignition upgrade (and a non-factory radio). It also has been updated with new brakes, rotors, and calipers, as well as new BF Goodrich tires.
Most importantly, the seller says the car "runs great," which means it should be a real hoot to drive with that fabulous 427 powerplant residing under the hood.
A matching hardtop also is included for the asking price of $39,500, with the seller pointing out that it's "hard to find original matching #s for this low price."

Source:
craigslist.com via barnfinds.com

Related:
Following the Death of His Father, NASCAR's Erik Jones Finishes Father/Son 1969 Corvette Project
Apollo 12 Astronaut's 1969 Corvette 'AstroVette' Will Be Added to the Historic Vehicle Register
1969 Baldwin Motion Phase III Corvette: A Story of Lost and Found, Lost and Found Again