One of the most difficult decisions I've had to make regarding my 2020 Corvette Stingray order is which of the 12 exterior colors to select, especially since I had to place my order before all of the colors could be publicly seen on the car. After personally seeing the 2020 Corvette in Torch Red, Elkhart Lake Blue Metallic, Ceramic Matrix Gray Metallic, and Zeus Bronze Metallic at the 7.18.19 8th Generation Corvette Reveal in Tustin, California, I began a quest to see the remaining 2020 colors in person.
With the 7.18.19 Elkhart Lake Blue Corvette showing up at West Coast Dealership Tours and a Sebring Orange Tintcoat Corvette making its appearance at East Coast Dealership Tour sites, I decided to hedge my bets on seeing Sebring Orange as well as other colors at Corvettes at Carlisle, so I booked a flight for a quick two-night C8 hunting adventure. While I waited, the 2020 Corvette Configurator kept me busy as I built just about every configuration possible in an attempt to narrow down my favorite color choices. For the moment, Elkhart Lake Blue, Rapid Blue, and Sebring Orange were at the top of my list and I thought the chances were good that I would indeed see Rapid Blue and Sebring Orange at Carlisle.

I arrived on the grounds at the Carlisle Fairgrounds around Noon on Thursday, August 22, and immediately made my way to the 8th Generation Corvette Display to see which 2020 Corvettes were already on display. After initially only seeing Zeus Bronze, Ceramic Matrix Gray, and Torch Red, which I had already previously seen, I was in the right place at the right time when Corvette Product Manager, Harlan Charles, and company arrived driving two Blade Silver Metallic C8s, one Black C8, and one Torch Red C8.

The next morning, I was up bright and early for a special media preview. While at the gate, a Shadow Gray Metallic C8 pulled in followed by another Zeus Bronze, but I still hadn't seen Rapid Blue or Sebring Orange yet. Following the media event, I headed to the VIP parking area where I heard Corvette personnel would be parking throughout the weekend. It was there that I finally laid eyes on a C8 boasting Rapid Blue, a bold new shade of blue never before seen on the exterior of a Corvette. And while I also saw a 2020 Corvette in the parking area wearing Long Beach Red Metallic Tintcoat, I had to laugh a little at myself for betting on seeing a 2020 Corvette in Sebring Orange and leaving having lost that bet. At least I had only made the bet with myself and I hadn't really lost anything at all with so many C8s in attendance at Corvettes at Carlisle.

By the time I left Carlisle, I had not only seen nine of the twelve 2020 colors in person on an 8th Gen Corvette, but also had added Blade Silver Metallic, Ceramic Matrix Gray Metallic, and Torch Red to my list of contenders. I also felt like I was in good shape to complete my quest since I already had plans in place to attend the National Corvette Museum's 25th Anniversary Celebration the following weekend and could then nail down my final decision in time to place my 2020 Corvette order in September.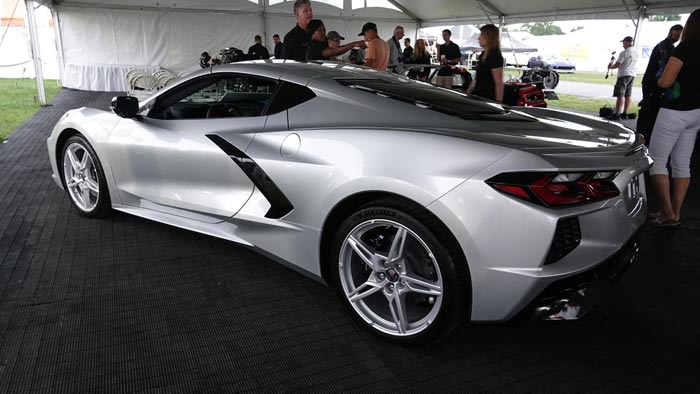 The three colors I had yet to see on a C8 heading into the NCM's 25th Anniversary Celebration were Arctic White, Sebring Orange Tintcoat, and Accelerate Yellow Metallic. As fate would have it, there were numerous 2020 Corvettes on site at the NCM that weekend, but the only color I would be able to check off the list was Arctic White. I did, however, head home with a clearer idea of my top choices after ruling out a few that I was previously considering.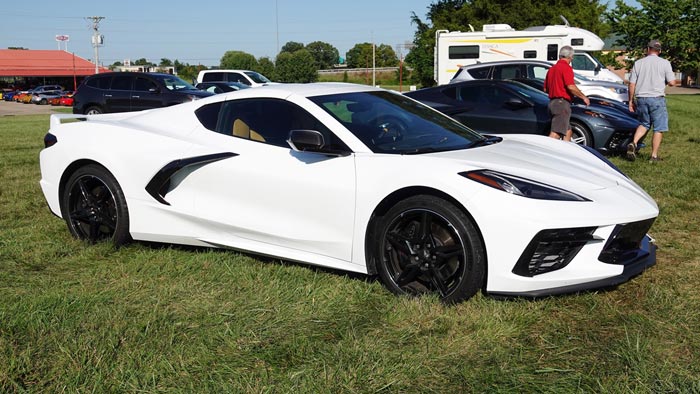 September rolled around and I had to make a decision. I really didn't want to order a new Corvette without having seen it on a C8 in person, and while Sebring Orange was still on my contender list, it would certainly take a leap of faith to go that route. How a color looks in person on any particular car is entirely subjective, but I've always been of the opinion that you need to see a color in person and in various lighting to determine if you really love it or not and can live with it for the long haul. An example for me is Sebring Orange on the C7 Corvette. I like it most on the C7 Grand Sport and ZR1, but don't like is as much on the C7 Stingray. The easy choice would be to go with my favorite color and select one of the blue options.

It would be in November that I would complete my quest to see all 12 colors on a C8. I had an opportunity to make a quick detour through Bowling Green while traveling home from a trip to Atlanta. I drove around the Corvette Plant looking for an Accelerate Yellow Metallic and Sebring Orange Tintcoat C8 on the morning of Thursday, November 21. I could see the front third of a 2020 sporting Sebring Orange behind a fence, so I knew it might be possible to see the car leaving the plant at some point if I got lucky. As I completed the drive around the plant, I decided to make one more trip around. It was then that I saw a brightly painted C8 coming through a security point on the way out of the plant. A C8 unicorn in Accelerate Yellow made the turn right in front of me! I was able to get video and photos while we sat at a light before I let the unicorn go and headed back to the plant to see if I could get lucky with the Sebring Orange C8 I had already partially seen.

The Sebring Orange C8 was still in the same spot behind the fence and since I had some other things to take care of across the street at the National Corvette Museum, I headed over to the NCM. I'd make one more attempt to see the Sebring Orange Corvette before leaving Bowling Green that evening. The payoff came with my final effort as I found myself following a Sebring Orange 2020 Corvette as it drove away from the plant.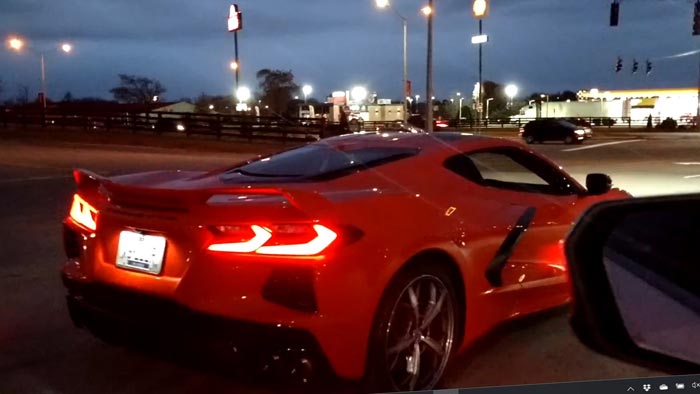 There wasn't a single color that I saw on a 2020 Corvette that I thought didn't look good in person. In the right lighting, every color has its merit. But I'm looking for a color that I like under any lighting condition. I also prefer a color that doesn't look dirty after a few hours of sitting outside. Even my Admiral Blue 2017 Grand Sport drives me a little batty in this regard from time to time. And finally, and most importantly to me, the color has to highlight the C8's chiseled body lines. So, having now seen a C8 in each of the twelve 2020 colors, here are my 2020 Corvette Color Rankings.
MY LEAST FAVORITE 2020 COLORS
#12 – Shadow Gray Metallic
– Looks best in full sunlight
– Lends itself to already looking dirty even if it's clean
– Too dark to highlight the C8's body lines


#11 – Long Beach Red Metallic Tintcoat
– Pops in full sunlight
– Too dark to look clean for very long
– Doesn't do much to highlight the C8's body lines


#10 – Arctic White
– I have to put sunglasses on to look at Arctic White in full sun
– Turns from white to tan or gray after driving in the rain
– Washes out most of the C8's body lines

STUNNING 2020 COLORS, BUT NOT FOR ME
#9 – Black
– Black is beautiful…in shade/darkness
– Black is beautiful…for about 5 minutes after it's clean (especially in dusty areas)
– Black is beautiful…in shade/darkness and subsequently hides the C8's body lines


#8 – Accelerate Yellow Metallic
– A bold new yellow for Corvette that shows differently in sun and shade
– Relatively clean looking when it gets dirty
– Does a fair job showing the C8's body lines


#7 – Zeus Bronze Metallic
– An elegant new color for Corvette that really pops in sunlight
– Should take a while before it shows dirt
– Does a good job highlighting the C8's body lines


#6 – Rapid Blue
– Looks good in all lighting conditions, but doesn't quite pop like I hoped it would
– Won't show dirt badly
– Does a good job highlighting the C8's body lines

MY FINAL 2020 COLOR CONTENDERS
#5 – Ceramic Matrix Gray Metallic
– Looks best in full sunlight
– Though some confuse it with Arctic White, the light gray helps keep this color looking clean
– Doesn't hide the C8's body lines like Artic White


#4 – Torch Red
– Look good in a variety of lighting
– Hides dust and dirt well
– Highlights the C8's body lines well

THREE – TWO – ONE (in no particular order)
#? – Elkhart Lake Blue Metallic
– Looks good in a wide variety of lighting, metallic pops in sunlight
– Lighter than Admiral Blue so it should look cleaner longer
– Highlights the C8's body lines well


#? – Blade Silver Metallic
– This color can look dull, but I was blown away by how stunning it looks on the C8
– Looks clean longer than dark colors
– Highlights the C8's body lines well


#? – Sebring Orange Tintcoat
– Looks good in a variety of lighting, metallic pops in sunlight
– Looks clean longer than dark colors
– Highlights the C8's body lines well
Yes, one of these final three is my choice for the 2020 Corvette that I have ordered and that I will take Museum Delivery of, hopefully by mid-March. Feel free to comment with your guess of which color won me over and stay tuned for the reveal! And since we all have different tastes and preferences, which 2020 Corvette colors do you prefer? Let us know in the comments below!

Source:
Photos by Jeremy Welborn
Related:
Colors We'd Like to See on the C8 Corvette: Spitfire/Krypton Green
[VIDEO] At Long Last, the 2020 Corvette Stingray in Accelerate Yellow
[VIDEO] Compilation of 2020 Corvettes In All 12 Exterior Colors