Quick Shifts is a content feature here at CorvetteBlogger featuring links to Corvette and automotive-related stories of interest. We usually base Quick Shifts on a 6-Speed manual transmission but there is so much Corvette action going on right now that we had to go with the 8-speed auto this time around.
Also, hold your breath because the media embargo on the C8 officially lifts next week so we are about to jump into the depend of Mid-engine Corvette reviews! We can't wait and neither can Motor Trend, they are celebrating by holding Corvette Week (like Shark Week, except way better!)!
For now, check out these automotive quick shifts featuring a super-gallery spanning each generation of Corvette Convertible, C5 Z06 Buyers Guide, a screaming deal for the King of the Hill, the importance of the '86 Convertible, C8 'Ring Time news, another awesome C3 Resto-Mod, a C8 in LEGO, and a comparison test from 2001!
FIRST GEAR:
Speaking of Motor Trend, take a look at the mega-gallery that they put together to celebrate the release of the C8 Convertible! It features pictures of droptop versions from each generation of Corvette. Motor Trend was founded four years before the Corvette debuted so they have an extremely impressive cache of original photos and they prove it with separate galleries of 72 photos dedicated to each of the eight generations of America's Sports Car. Get your desktop ready, there are bound to be several that tickle your fancy.
See the Convertible gallery at Motor Trend
Photo Credit: GM

SECOND GEAR:
Hagerty has a great read about how significant the 1986 Corvette Convertible was in its own time. It is a good read that touches on their specialty, valuations. Is it time to invest in a ragtop C4?
Check it out at Hagerty.com.
Photo Credit: GM

THIRD GEAR:
Last week we covered Barrett-Jackson's Las Vegas Auction. The last 'Vette to miss the cut for the article was a 1993 ZR-1 because of its relatively high 60k miles. You won't believe the deal that someone got on the Polo Green beauty though! These prices always make us wish that we attended more of these auctions!
Prepare to be green with envy at Automobilemag.com

FOURTH GEAR:
A stunning artist's rendition of a modern take on what many consider the best-looking Corvette in history was featured on Motor1.com this week. This has us pining for a retro themed return to a front-engine layout! Be sure to scroll down far enough to use the fun slider tool that swipes between the new design and a real '67 427.
Take a look at Motor1.com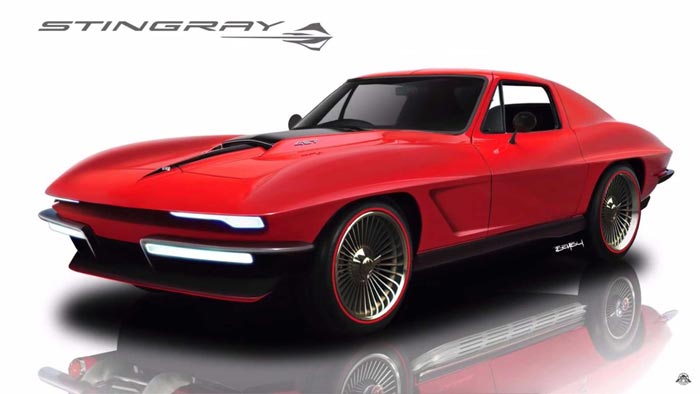 Photo Credit: SketchMonkey

FIFTH GEAR:
Road & Track had what ended up being one of our favorite pieces of the week. It is an in-depth guide to buying a C5 Z06 and it is spectacular! We could see it helping out a lot of people and getting more youngin's into the best performance per dollar Corvette out there! Don't read this unless you are prepared to at least consider buying a C5Z!
Read it at Road & Track
Photo Credit: GM

SIXTH GEAR:
Motor Authority spoke to Corvette Lead Development Engineer, Mike Petrucci this week. He revealed that the new Stingray Z51 did, in fact, set a lap time at Germany's infamous Nürburgring in July before the reveal. With their usual hot-shoe (and ride and handling engineer), Jim Mero officially retired, the fast-lap was driven by none other than Corvette Racing's Oliver Gavin. Evidently he piloted the C8 to an even quicker time than they were expecting!
Read the whole story on Motor Authority
Photo Credit: Motor Authority

SEVENTH GEAR:

Pro-Touring C3's are really hot right now! We pointed you towards an LT4 powered beast last week and now, Automobile has a story about a '69 built by Detroit Speed. We aren't sure if it is the cooler than last weeks' example (as they claim) both are outstanding specimens and we would be hard pressed to choose if both were available!
See more of this LS7 C3 at Automobile.com

EIGHTH GEAR:
Is your wife tired of you spending all of your time on the C8 Configurator? Do you want to build your own C8 while also spending time with your kids? Rebrickable has you covered with a LEGO C8!
Watch and read how to build it at Rebrickable.com

REVERSE:
If you weren't already browsing Autotrader for used C5 Z06s after this week's 5th gear, this classic Car and Driver comparison test should do the trick! Here, our hero faces off against two serpents; the Mustang Cobra R and the Viper ACR. See who comes out on top on Car and Driver

Related:
QUICK SHIFTS: C8 Corvette Convertible, C8.R, Shades of Blue Trivia, and a C3 with an LT4 V8
QUICK SHIFTS: ZR1 vs. NASCAR, Astro II, Corvette Trivia, Harvest Gold '55, and Remembering the King of the Hill
QUICK SHIFTS: Mid-Engine Primer, Mary Barra Rendered, the BFG Corvette, Camaro Crashes Mustang's Birthday