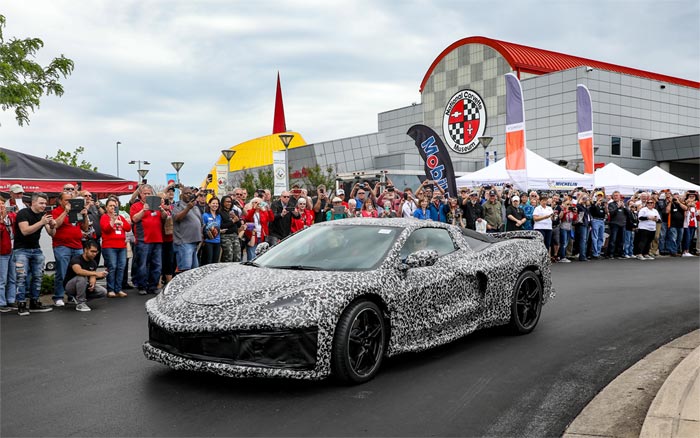 Photo Credit: Craig Marcho

Here's another option for you if you're not already on a list to pick up a 2020 C8 Corvette. The National Corvette Museum already has two C8 raffles underway. Both raffles take place in late August of this year at the NCM's 25th Anniversary and Corvette Cruise-in.
On August 30th the museum will pick the winner of a "Build Your Own" next generation Corvette. We presume that his drawing will be just like past "Build Your Own" raffles in that the lucky winner will be able to spec out their own C8 just the way they want it, and then pick it up at the museum. Tickets are $250 each and sales are limited to just 1,500. Based on the leaked 2020 Corvette order guide photos, it appears that the winner will have many decisions to make. Among them are 2 tire types, 4 unique wheel types, 2 brake packages with 4 caliper colors, 12 exterior colors, and 20 interior trim combinations among others. Whew! Better start planning now as deciding what to get could take some time.
On the following day, August 31st, the NCM will be giving away C8 Corvette VIN #25. While no details on the car's content are currently listed you can be certain that'll it be well equipped. Plus, it's just a great opportunity to score an early VIN on the new generation of Corvette for just $25. Tickets for this raffle are unlimited so buy early and buy often.

The other good news here is that NCM raffle tickets are once again available to everyone. The recent change is that only Kentucky residents can buy them online. Everyone else must mail in a downloadable form and mail it in.
For more information you can check out the National Corvette Museum's Raffle Page here.

Source:
National Corvette Museum

Related:
[VIDEO] Harlan Charles Shares the New C8 Corvette Badges at the NCM Bash
The Corvette Museum is Making a Significant Change to its Raffle Program
Win a 1965 Corvette in the 31st Annual St. Bernard Classic Corvette Raffle