An unwanted street race ended in a rear-end crash at his driveway that convinced the owner of this 1967 Corvette to park the car and never drive it again.
Now this 427/435 Corvette with an original 1,293 miles on the odometer has finally surfaced once again, sold by the family of the original owner, a man named Larry Shank, to a collector in California.
Shank, a dairy farmer in the Maugansville, Md., area, ordered the 1967 Sunfire Yellow Corvette at Hoffman Chevrolet, located at Washington and Locust streets back then, with a very desirable list of rare options, including the big engine, side pipes, and cast aluminum bolt-on wheels. Obviously, this car was meant to do serious business on the track, as witnessed by its radio-delete option.

John Evans – whose father, Jack, was a sales manager at Hoffman Chevrolet years ago – now owns Jack Evans Chevrolet in Front Royal, Va., and recounted his memories of the car to a Herald-Mail Media reporter.
Evans says he remembered Shank's Corvette from his youthful days and even tried to buy it in later years. "That car never left my mind," he said. "I mean, it was stunning." One day, Shank was approached in the parking lot of the Long Meadow Shopping Center by the driver of a 1962 Impala SS, who challenged him to a race. Shank didn't bite and headed home, but with the SS driver following. They eventually raced, and Shank pulled away to take the victory. Just as Shank entered his driveway, the Impala driver couldn't stop and hit Shank in the rear.

Shank never drove the damaged car again, first storing it in a barn on the family's dairy farm and then in the basement of his home in Maugansville.
After Shank died in 2014, his family decided it was time for his Corvette to be sent to a new home. An anonymous California collector wound up buying the car, still bearing the damage from that long-ago street race along with some damage from being stored in the damp basement. He had it hauled back to California in an enclosed truck.

No word on how much the collector paid for the car – "enough" was his reply when asked – but regardless, this tale of a one-owner basement find is "probably one of the best Corvette stories out there," according to Evans. "It needs to be shared."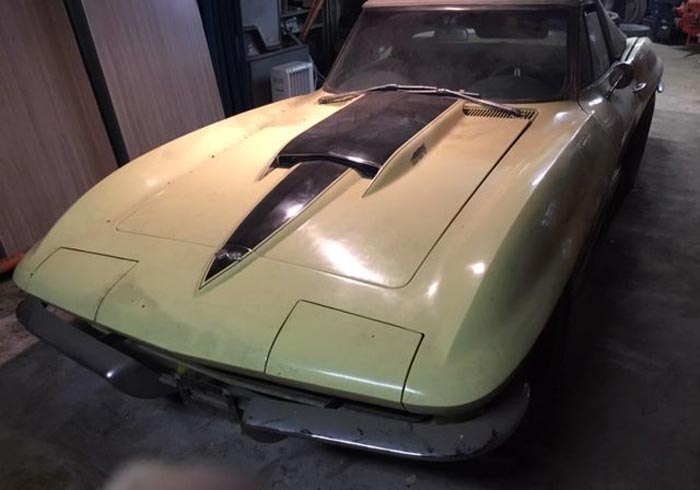 Source:
heraldmailmedia.com

Related:
[VIDEO] 'Vault Find' 1967 Marina Blue Corvette 427/435 Sells for $675,000 at Mecum Indy
Side Yard Rescue: 1967 Corvette Big Block Coupe with Factory Air
[VIDEO] Twin-Turbo 1967 Corvette Dominates at the Pikes Peak Airstrip Attack