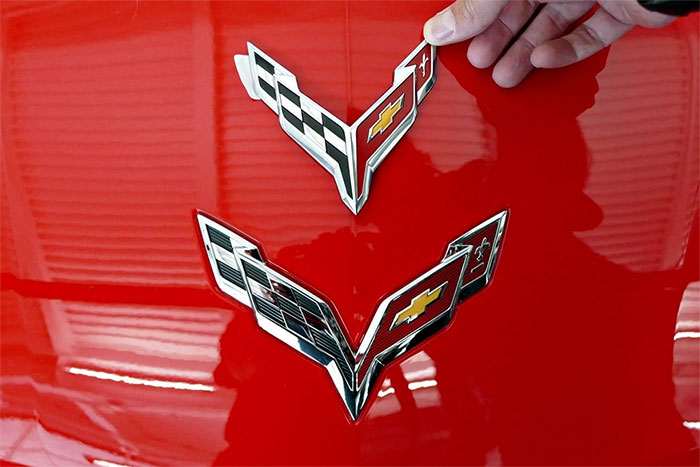 With the official reveal of the C8 Corvette's emblem at the NCM Bash this weekend, we are definitely seeing an evolution in the design of the Corvette's crossed-flags logo over the last three generations. The swept-back design of the C8 logo gives a sense of speed and flight, and interestingly, it's a bit smaller than the C7's badges as this comparison photo shows.
Thanks to our friend Jeremy Welborn for sharing these photos on the Mid Engine Corvette Forum showing the side by side comparison of the C7 and C8 logos:
Harlan Charles graciously provided this comparison opportunity for me after the C8 Presentation this morning. Thank you, Harlan!

The first photo compares the new front C8 emblem to the front C7 emblem. The second and third photos show the C8 emblem on the back of the Corvette Team's emblem reveal shirts followed by carbon flash and chrome versions of the C8 emblem.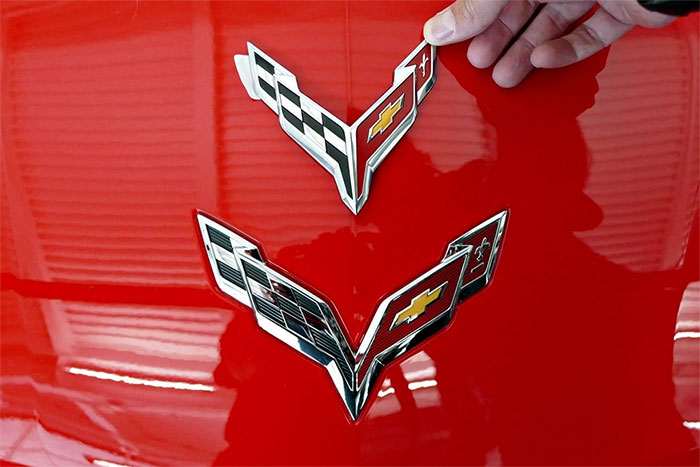 The Corvette Team also revealed this video animation showing the Corvette's emblem over the years and how it's changed from generation to generation.
What's your thoughts on the new C8 Corvette embblem? Leave a comment below or head over to the MidEngineCorvetteForum.com and jump into the conversation with likeminded Corvette enthusiasts!

Source:
MidEngineCorvetteForum.com

Related:
[VIDEO] Harlan Charles Shares the New C8 Corvette Badges at the NCM Bash
[SPIED] C8 Mid-Engine Corvette's Digital Crossed Flags Logo Revealed
Corvette's Crossed Flags Badge Approved in Australia with Strings Attached
The C8 Mid-Engine Corvette Might Just Make an Appearance at the NCM Bash After All