Rumors of a C8 Corvette Drive-By came true on Saturday afternoon as the next-generation sports car did a quick appearance at the National Corvette Museum.
The word went out a little after 12 Noon to be outside and a large crowd of Corvette enthusiasts gathered around the NCM circular driveway to watch the car go around. Just after 12:15 pm the car appeared.
Here's our video of how it went down:

Craig Marcho, aka "Marcho Polo" (a professional photographer) on the MidEngineCorvetteForum.com took these great photos and allowed us to share them.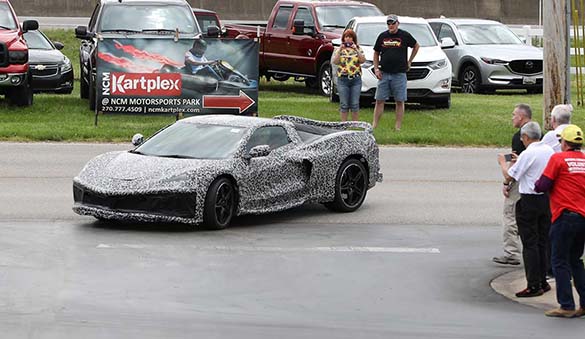 Source:
Top Photo/Video by Keith Cornett
Other pics by Craig Marcho
Related:
[VIDEO] Harlan Charles Shares the New C8 Corvette Badges at the NCM Bash
[SPIED] C8 Mid-Engine Corvette's Digital Crossed Flags Logo Revealed
Corvette's Crossed Flags Badge Approved in Australia with Strings Attached
The C8 Mid-Engine Corvette Might Just Make an Appearance at the NCM Bash After All