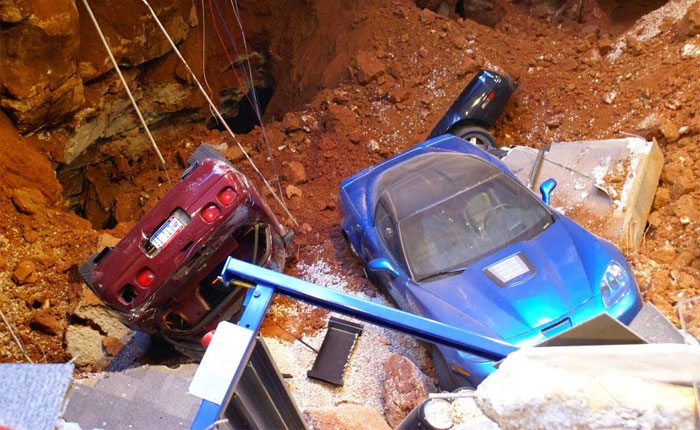 Can you believe it's been nearly five years since Corvette enthusiasts – and the rest of the world – woke up to the horrific news that a sinkhole had swallowed eight priceless Corvettes on display at the National Corvette Museum?
But next Tuesday, Feb. 12, will indeed mark five years since the disaster struck the museum while most folks were sleeping.
The sinkhole turned out to be a blessing in disguise for the museum, which saw its attendance figures soar in the aftermath as visitors from around the world, intrigued by the mystery, wanted to see the destruction wrought by Mother Nature. (And have you ever given any thought to what the reaction would have been had it not been the legendary Corvette involved but instead just an ordinary car like a Malibu or a Camry? Yawn!)
No word on whether any special activities are planned at the NCM next week to mark the occasion, but on any given day there, you are able to enjoy the Skydome Sinkhole Experience that opened up on Feb. 12, 2016, the two-year anniversary.
The exhibit tells the story of what happened early on the morning of Feb. 12, 2014, along with why it happened, what cars were affected, how they were recovered, what karst landscapes and caves are, how the building was repaired, and much more.

We would argue that the sinkhole and how effectively it has been handled in the aftermath actually have made the museum a much better place for all of us to enjoy. While no one likes the idea of Corvettes being damaged, many would likely agree that it was exciting to watch over the months as the cars were first removed from the hole, then how they were repaired, how the building was fixed, and how the museum continues to make lemonade with the lemons it was dealt.
While in the early days, some people wanted to leave the sinkhole intact, we think it's actually cool the way it was repaired.
Visitors can still see the location of the hole that has been outlined with paint, and where else can you peer into a 48-inch manhole and see the floor of a sinkhole 30 feet below?
Happy anniversary, sinkhole! You actually made the history of our beloved sports car much more interesting.

Source:
WBKO.com

Related:
WBKO Reporter Goes Spelunking in the Corvette Museum's Sinkhole
[VIDEO] Corvette Museum Unveils the Restored 1962 Corvette Damaged in the Sinkhole
These are the Eight Corvettes that Fell into the Corvette Museum's Sinkhole