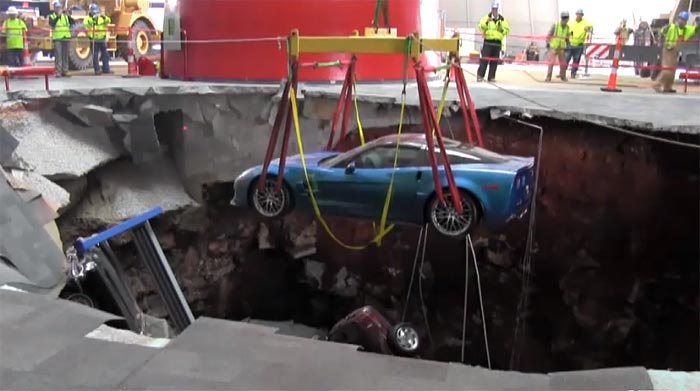 WBKO reporter Sean Baute goes where few have ever been. Some eighty feet under the National Corvette Museum's Skydome is a cave that was discovered when the floor broke through and eight Corvettes fell into the sinkhole four years ago.
After the Museum's floor was stabilized with micropiles, the sinkhole was filled and the Skydome floor was replaced. But under the Museum, the cave remains. It's accessible inside the Skydome by climbing down a 30-foot tube and then descending another 50 feet to get to the cave floor.

Part of the front bumper cover of the 1984 PPG Pace car is still down there as well as a door skin from the 2001 C5 Hammer Corvette.
During his decent, the reporter talks with Katie Ellison about the impact that the Sinkhole had on the museum and the resulting attendance growth from the publicity. Fellow NCM employee Daniel Decker, who leads the Preservation and Restoration department, has been down in the Sinkhole cave more than anyone and has earned the nickname, "Keeper of the Sinkhole".
Daniel's efforts at the restoration of the 1962 Corvette that fell into the sinkhole were shown off last month when the car was revealed at a ceremony in the Skydome.
The video from WBKO's visit to the NCM Sinkhole cannot be embedded here, so click here to watch at WBKO.com:

Source:
WBKO.com

Related:
[VIDEO] Corvette Museum Unveils the Restored 1962 Corvette Damaged in the Sinkhole
[VIDEO] 1953 Cutaway Corvette Chassis #003 Now Showing at the National Corvette Museum
Corvette Museum to Open Corvette Cave-In Exhibit on 2nd Anniversary of Sinkhole