If you were around in the late 1970s, you may remember how popular brown cars were back then. The color was especially popular on Cutlass Supreme Broughams, many with a landau top done in a complementary shade and, of course, those puffy pillow seat cushions that made you want to lie down and take a nap.
We're not so sure, however, that it's our favorite color on a 1978 Corvette, like this nice example currently for sale on bringatrailer.com out of Ashland, Virginia. Bidding ends in six days, and right now, it's climbed to just $2,200.
This '78 coupe – which marked the first year of the fastback roofline that has survived through the current C7 version – is said to have just 59,000 miles showing on the odometer. It comes with body-color T-tops, though we'd prefer to have the see-through versions as on the Pace Car.

That fastback roofline improved visibility for the driver and added extra luggage space, making it easier to store those T-tops. Other improvements in '78 include a larger, plastic-lined fuel tank that increased in size from 17 to 24 gallons.
The car had been in a large private collection before being acquired by a body shop that then sold it to the current owner three months ago.
The metallic brown exterior has seen at least one repaint over the past 41 years, and the graphic on the cowl induction hood was also added later.

While it does still have its original L82 350 engine hooked to a rare 4-speed manual transmission, this Corvette has been updated over the years with many new parts, including an Edelbrock carburetor on a high-rise Weiland intake, ignition parts, brakes, tires, brake master cylinder, front calipers, and more.
The current owner has replaced the HEI distributor cap, rotor and pickup coil, vacuum advance, ignition coil and module, and spark plugs and wires.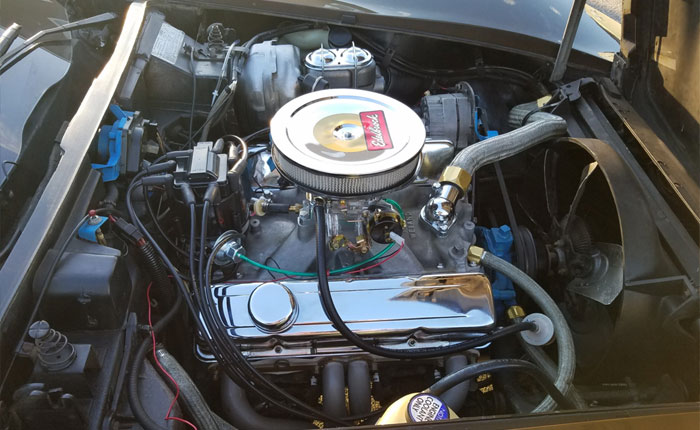 All 1978 Corvettes featured silver anniversary nose and fuel door emblems to celebrate 25 years of production, and this one is no exception.
New blackwall Hankook tires were installed last November. It's funny how blackwalls look so good on late-model Corvettes, which look terrible with white letter tires, in our humble opinion, but we tend to believe that period-correct white letters would really dress up the exterior of this '78.
The cabin looks to be in nice condition, with brown leather seats and carpet that is said to have been dyed by a previous owner. The instrument panel was restyled that year and featured face-mounted, round, easy to read instruments, though they're nowhere near as in-depth as the later model Corvettes. Still, this one has enough gauges to keep you well informed, including ones for water temperature, fuel, oil pressure, and voltage, along with a 140 mph speedometer and a 5500rpm redline tachometer that in fact was recently replaced but is still in need of calibration.

Like we said, brown was a popular color back in the day, but it could keep this nice example of a '78 from bringing more money than say, a red or white version. What's your take?

Source:
bringatrailer.com

Related:
Corvettes on Craigslist: 1976 Corvette in Dark Brown Metallic
UAE Import-Export C6 Callaway SC616 Corvette Offered For Sale
Corvettes on eBay – Chuck Miller's 1971 Corvette SportWagon