In the late 1960s and early 70s, one of the biggest interest stories in America was space travel and the journey to the moon. As a sign of progress and achievement, General Motors and Chevrolet wanted to tag their names to these accomplishments. So a deal was struck with Jim Rathmann Chevrolet to have a "Courtesy Car" program for the astronauts to lease a Corvette for $1. What better way to show America and the world that Chevrolet was the leader in speed, power, and technology by showing astronauts driving Corvettes.
I have always been intrigued by astronauts and of course being a Corvette fan, I had put seeing one of the Gold and Black astronaut Corvette on my "Want to See" list. So when I heard that the National Corvette Museum in Bowling Green, KY, was going to have one on display with a couple of other astronaut-owned Corvettes, I decided to pay them a visit. The three Corvettes on display include the 1968 Alan Shepard Corvette, the 1969 Alan Bean Corvette (one of the Gold and Black) and the 1971 Al Worden Corvette. These Corvettes will be on display at the NCM until July 31, 2019.
1968 Alan Shepard Corvette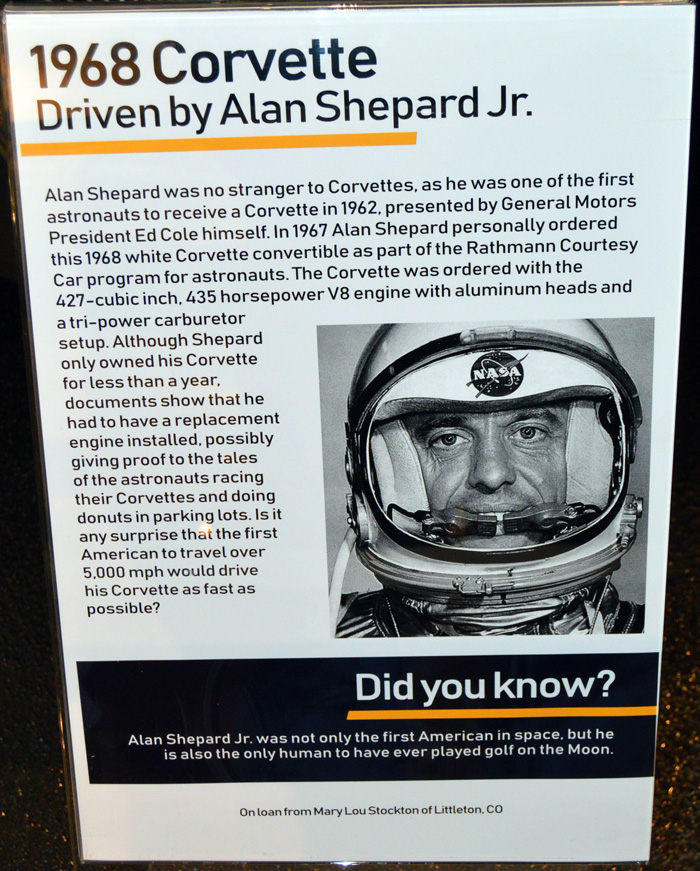 Alan Shepard served in the Navy during World War II. In 1946 he became a naval aviator which led to becoming a test pilot in 1950. He was then selected as one of the original Mercury Seven astronauts in 1959. Two years later, May 1961, Mr. Shepard would make the first manned Project Mercury flight to space. This would make him the second man and the first American to travel into space. However, he did have the distinction of being the first man to have control of the spacecraft while in space. He would go on to other NASA projects including Project Gemini and the Apollo Program.

This 1968 Stingray was not the first Corvette that Alan Shepard had received as an astronaut. In 1962, General Motors President Ed Cole presented all the Mercury 7 astronauts with new Corvettes. Mr. Shepard's Corvette was Ermine White with black interior.

In 1967, Alan Shepard ordered his Corvette Stingray from Jim Rathmann Chevrolet in Polar White with a black interior. The same as his 1962 Corvette that he received from Ed Cole. He also order what was listed as the highest horsepower engine, the 427ci / 435hp L71 engine but with the rare L89 option which place aluminum heads on top of the iron block. Only 624 L89 optioned 427s were produced in 1968. And with the P01 Bright Metal Wheel Covers installed, you would have to think all the extras were included with this Corvette.

Records show that Mr. Shepard owned this '68 Stingray for less than a year, but it is known that he did have to replace the motor. There has always been rumors that the astronauts would race each other in their Corvettes, having to replace the motor could indicate that this might be true.

1969 Alan Bean Corvette

Alan Bean was born March 15, 1932, in Wheeler, TX. After graduation from the University of Texas at Austin with a Bachelor of Science degree in aeronautical engineering in 1955 and naval flight training in 1960, he was selected by NASA to be an astronaut in 1963.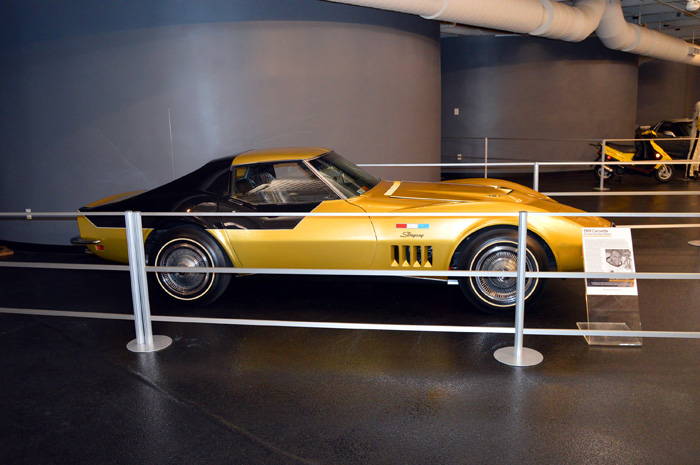 Alan Bean served as the backup crew for Apollo 9 before becoming the Lunar Module Pilot for the Apollo 12 mission. In November of 1969, the Apollo 12 was the second mission to land on the surface of the moon. The mission was almost aborted due to a lightning strike, however, Bean was able to restore telemetry and salvage the mission.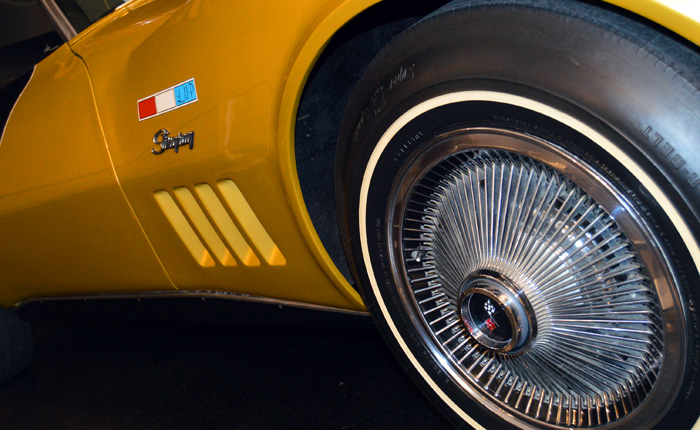 Alan Bean, along with the other two Apollo 12 astronauts, Pete Conrad and Dick Gordon, ordered their Corvettes through Jim Rathmann Chevrolet and chose to have their Corvettes painted identically. The Gold with the "Black Wings" is one of the iconic astronaut designs and is often thought of when the term "Astronaut Corvettes" is mentioned. Each is equipped with an L36 427ci / 390hp engine and 4-speed manual transmission. On the front fender of each is a red, white and blue painted graphic. On Alan Bean's Stingray has the letters "LMP" painted in script on the blue portion of the bar. This the main assignment Bean was responsible for, Lunar Module Pilot.

1971 Al Worden Corvette

Al Worden was born February 7, 1932, in Jackson, MI. He graduated from the United States Military Academy at West Point in 1955. With all his education and training in the Air Force, Worden was selected to be an astronaut in 1966. He served as a support crew member for Apollo 9 and backup Command Module Pilot for Apollo 12 before being appointed as Command Module Pilot for Apollo 15. Apollo 15 was the fourth manned lunar landing mission.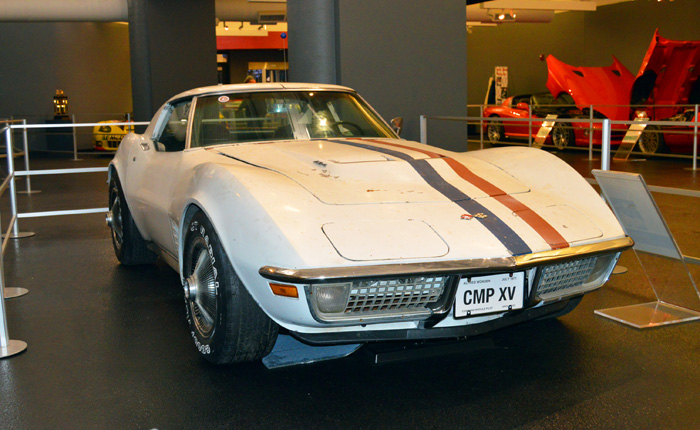 Al Worden and his two fellow Apollo 15 astronauts, David Scott and James Irwin, ordered their Corvettes through Jim Rathmann Chevrolet. The three decided they wanted a patriotic theme to the appearance of their Corvettes. They decided to go with a patriotic theme by ordering their Corvettes in Red, White and Blue. Each one has the remaining two colors of the flag as stripes off center to the left. Worden's Corvette would be Classic White with red and blue stripes. Except for the paint, all three Corvettes would be identical with 454 ci motors.

Al Worden's 1971 Stingray had been sitting out in an open field in Texas for many years until it showed up on a used car lot for sale. The current owner bought it and the Corvette still remains the way he found it with many of the original options as ordered on the Corvette when it left St. Louis.

Alan Shepard's 1968 Corvette is on loan to the National Corvette Museum from Mary Lou Stockton of Littletown, CO. Alan Bean's 1969 Corvette and Al Worden's 1971 Corvette are on loan to the National Corvette Museum from Danny Reed of Austin, TX.

Source:
Photos by Jeffrey Wagner
Related:
Corvettes and Astronauts Celebrate 50 Years Together
Astronaut Alan Bean Passes Away at 86 Years Old
[VIDEO] Astronaut Gus Grissom's 1967 Corvette Lands in Wilmington, NC