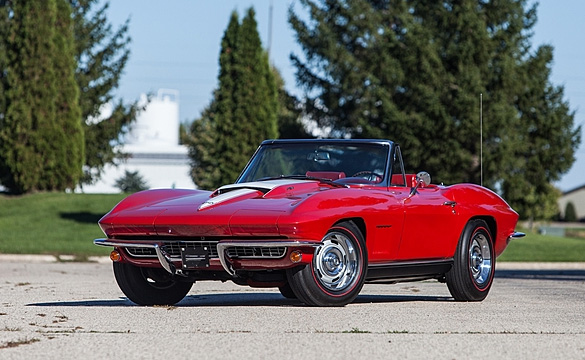 For Wilmington, N.C., auto dealer Don Latham, the 1967 Corvette Sting Ray he bought at a Florida auction last week has the right stuff.
You see, he bought one of the Corvettes owned by the "Mercury Seven," the men chosen by NASA in April 1959 to lead America into the Space Age.
All seven of the astronauts had a Corvette, and this one belonged to Virgil "Gus" Grissom, who was one of the three astronauts who died on the launch pad aboard Apollo 1 on Jan. 27, 1967.
Grissom had owned the Corvette just a few months before his tragic death, and since then, it's changed hands several times over the years.
Latham says he doesn't plan to sell it anytime soon, though, instead saying he and his wife will take it around their hometown and let people enjoy seeing this very historic Corvette as much as possible.
"I saw the car a couple of years ago and did not buy it, and I accidentally bumped into it while walking around the huge lot at Mecum in Kissimmee. Bumped into it, saw it and realized what it was, made an offer and brought her home," he said.
The original color was Lynndale Blue over a teal blue interior, but the exterior has been repainted to red. Latham says he'll change it back to the factory original color later this year.
"I want to put it back just the way when Grissom owned it," Latham said.
Not only did Latham get the Corvette, he also received several displays that document Grissom's two trips into space and the accident that took his life nearly a half-century ago.
The Sting Ray was offered at Mecum's 2015 Kissimmee auction where it was bid to $120K but the auction closed without a buyer. Latham bought the car after the auction and its rumored that it sold for somewhere around $130,000.

Source:
wect.com

Related:
Gus Grissom's Corvette Sting Ray Will Be Offered at Mecum Kissimmee
Corvettes and Astronauts Celebrate 50 Years Together
Astronaut Neil Armstrong's 1967 Corvette Displayed at the Kennedy Space Center