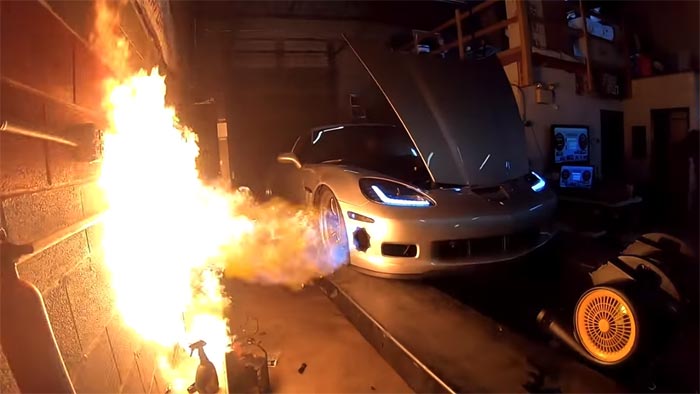 A turbo C6 Corvette was undergoing testing on the dyno when the manifold cover exploded and flames erupted from the engine. The explosion was already scary enough when a ball of fire shot out of the turbo porting and caught some cables hanging on the wall on fire.
It's explained after the incident that this modded Corvette was running 26 lbs boost at 5900 RPM and was recorded at 1356 hp before the plastic manifold cover went flying, dumping the fuel into the engine and causing the fireworks.
Luckily the engine appears to have only suffered the loss of the manifold cover although a complete once-over and clean-up of the fire retardant is now required.
The action begins around 3:30 if you want to jump ahead and be warned as there is some salty language from the shop guys following the fire. It's an interesting build and the owner is talking about entering the car in several half-mile events once it's sorted out.
Video by The Boosted One at YouTube:
Hitting the rollers again for more boost!
Cortex EBC installed!
We turn the boost up a little too much……who am I kidding, that's not possible!

Source:
The Boosted One / YouTube

Related:
[VIDEO] A Dyno Assistant's Arm Gets "Run Over" by a 2019 Corvette ZR1
[VIDEO] First Dyno of the 2019 Corvette ZR1
[VIDEO] Vengeance Racing's 1250 HP Corvette From Hell on the Dyno