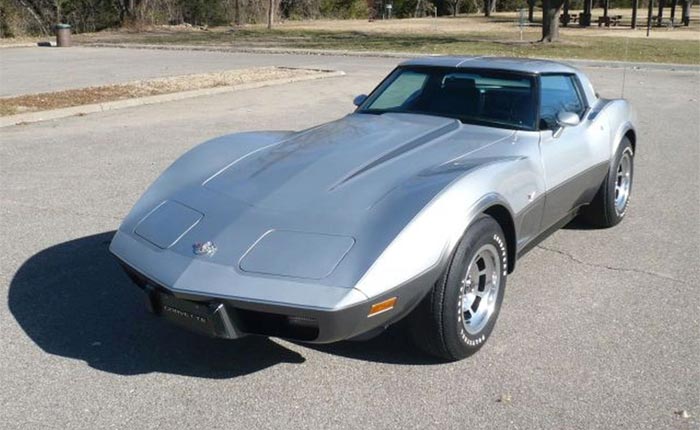 Back in 1978, the hoopla over the Corvette Indy Pace Car stole much of the spotlight from that year's other special Corvette – the Silver Anniversary model.
In case you didn't get around to buying a new '78 Corvette back in the day, here's your chance to get a virtually new Silver Anniversary edition.
We've heard all about Indy Pace Cars with very low miles because their owners preserved them, thinking they would be worth megabucks one day.
Not as many Silver Anniversary owners took that drastic step, but here's one that did.

Currently up for sale on bringatrailer.com, this Corvette has only 3,310 miles on the odometer and appears to be in top-notch condition based on the plethora of photos anyway.
The '78, of course, was the first C3 to feature a wraparound rear glass that carried over to the C4, C5, and C6 Corvettes, though unfortunately it doesn't open to make access easier to the very large storage area behind the seats. That year, the Corvette also had updated instrumentation, including the infamous 85mph speedometer mandated by our buddies at the federal government.

The Silver Anniversary was basically a paint option (B2Z) on any base model Corvette and featured a two-tone Silver Metallic over Charcoal Silver lower body paint job with a pinstripe to give more folks a chance to get in on the big celebration. Unlike the Pace Car that was limited to 6,502 examples, Chevy agreed to produce as many Silver Anniversary editions as the market would bear. As it turned out, a whopping 15,283 folks took them up on that offer.
This example, which has a well-preserved black leather interior, features an L48 350 V8 (with just 185 hp but an impressive 280 lb-ft of torque) hooked to a three-speed automatic transmission.

It's nicely outfitted with air conditioning, power windows / brakes / steering, cruise control, tilt wheel, Delco AM/FM/8-track stereo, fully independent suspension, 15" by 8" aluminum wheels, chrome exhaust tips (added by the original owner), and power antenna. (The original antenna quit working, so the seller is throwing in a replacement.)
We always loved the look of the mirror T-tops on these C3s, and the new owner will receive a brand new set of them in original GM Genuine Parts boxes, along with a set of body-colored T-tops.
The instruction card for the headlight dimmer, turn signal switch, and ignition lock is still attached to the driver's sun visor. The photos don't show any other special documentation for the car, but we'd assume that it exists since someone obviously went to great pains to preserve this special Corvette for the past 40 years.

No word on how much this car originally listed for, but the base price without options was $9,351.89. So far, the bidding has climbed to $14,250 with the auction ending on Wednesday, Jan. 2 at 5 p.m.
How much would you pay for this apparently very nice example of a Silver Anniversary?

Source:
bringatrailer.com

Related:
Corvettes on eBay: 4.1 Original Mile 1978 Silver Anniversary Edition
Couple Donates Two Anniversary Corvettes to the National Corvette Museum
Corvettes on eBay: 1978 25th Anniversary Corvette with 15 Miles