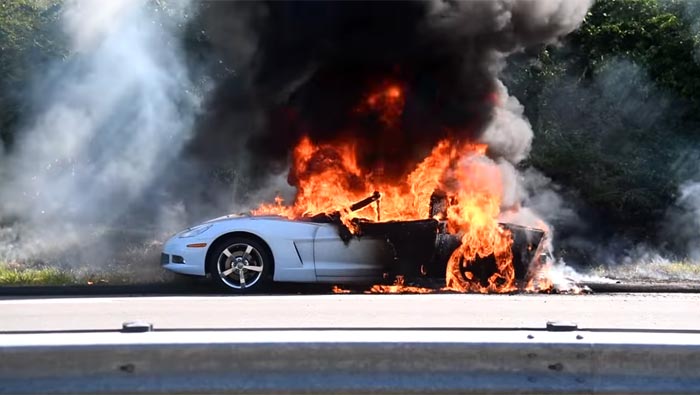 Here is a scary Corvette fire that occurred earlier this week in Connecticut alongside Route 2 in Colchester.
The fire seems to be more intense at the rear of the car before spreading to the engine compartment. As the fire department rolls up, the C6 Corvette is totally engulfed in flames.
There is no sign of the Corvette's driver, and we hit google with no luck in finding out what may have been the cause of the fire. The fire was so intense that it caught the surrounding grass on fire as well.
Here is the description of the video from YouTube:
Saw the header of this Corvette fire about half a mile before arriving on the scene in Colchester while we were on our way to South Windsor Saturday. I stopped in front of two other Stopped vehicles so that their vehicles were buffers to my Beamer while I shot this quick video of the fully engulfed vehicle.

Source:
MonsterRailroad / YouTube

Related:
California House Fire Claims a A 2016 Corvette Stingray
[ACCIDENT] C3 Corvette Catches Fire While Traveling to a Saturday Car Show
Florida Man Sets Neighbor's Red Corvette On Fire As Revenge for Suspected Theft of Lawnmower