Only 43 Corvettes were built with a 1983 VIN sequence. Sadly, all were destroyed – except one. The survivor car is VIN 023, a White car with Blue interior, now at the National Corvette Museum. But, what were the exterior and interior colors of the 42 destroyed cars? Were any built with RPO Z51? Did any have RPO FE7 Gymkhana Suspension or RPO F51 Heavy Duty Shocks? Which of them were not considered pilot cars? Did all cars have the same build-order input date?
Let's investigate some historical facts of the 1983 Corvette.
Identification
Service Parts Identification (SPID) labels were not used – GM introduced the SPID label about a year after the 1983 pilots were built. All 1983 Corvettes used metal trim tags mounted to the passenger-side hood-latch support in the engine bay. Early 1984 Corvettes – to about VIN 20,000 – also used these metal trim tags. The 1983-84 trim tag was the same format as the 1982 Corvette trim tag.
All 1983 Corvettes had "Cross Fire Injection" RPO L83 engines which had been introduced on the 1982 Corvette. The L83 was used in only three years of Corvettes, 1982, 1983, and 1984. Additionally, all 1983 Corvettes had RPO MD8 automatic transmissions. The 1983 Corvette, although never released, is one of only four years of Corvettes which were not built with a manual transmission – 1953, 1954, 1982, and 1983.

Build Sheets – The First 33 Cars
Hand-written notes on the 1983 build sheets indicate that the first thirty-three 1983 Corvettes were classified as "pilot cars." Their build order was input on June 28, 1982. All had RPO GU2 2.73 axles. None were RPO Z51.
VIN 0001 was input as RPO 53U Gold Metallic. On July 15, 1982, a hand-written note on the build sheet changed the color to RPO 70U Spectra Red.
Build Sheets – The Next 10 Cars
A few months later, the next ten (and final) 1983 Corvettes were not classified as pilot cars. Hand-written notes on the build sheets indicate that those ten cars were classified as "non-saleable units." Their build order was input on November 15, 1982. For these ten cars, all had RPO HE3 3.07 rear axles. Five of these ten cars had RPO Z51. Six of these ten cars were White, while four of the ten were Silver. In December 1982, most of these ten cars were at a press introduction at the Riverside Raceway in Riverside, California.
Here are all 1983 Corvette exterior color totals:
Footnote A:
These four colors do not have a clear coat paint finish. That makes sense: 1983 cars were built at the end of 1982 production, and 1982 cars with those same paint codes (10, 19, and 70), were not clear-coated. Strangely, some sources include these paint order codes in 1984 production totals, even though all 1984 Corvettes had clear coat paint. Is it possible that the 43 units of 1983 cars were included in 1984 production totals? See the book All 1997-2000 Corvette Colors, available on Amazon, for a discussion on 1982 Non-Clear-Coat Bowling Green Colors.
Footnote B:
Per DuPont's Classic Corvette Program, the DuPont paint code B8241 was code 72 Bright Red, WA7475, a non-clearcoat paint used on GM trucks. Although the code 72 color was recorded as a 1983 Corvette pilot color, it was not used.
Color Notes
Before being restored to its original White, the only surviving 1983 Corvette was at some time in its past given a "red-white-and-blue" paint job.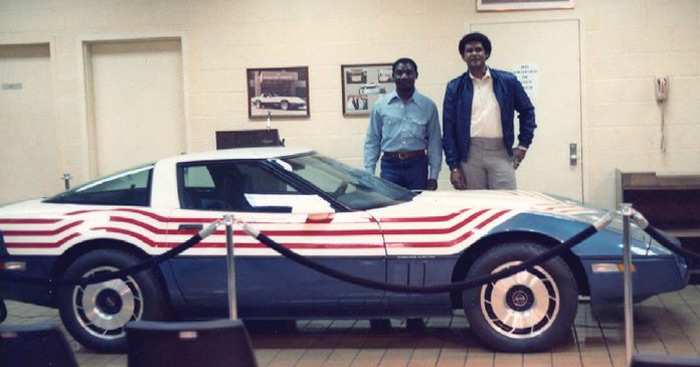 The only use of code 23U Medium Blue Metallic was for the lower color on the two-tone VIN 0003 car. Similarly, the only use of code 66U Dark Bronze Metallic was for the lower color on the two-tone VIN 0006 car.
Medium Gray Metallic, code 18, a scheduled 1983 production color, was not used.
Only two 1983 Corvettes had Dark Red Leather seats: VIN 0037 (White exterior) and VIN 0041 (Silver exterior). Both cars were built in the second group of cars, order input November 15. Does that indicate that Dark Red Leather seats were not yet available for the June 28 group of cars?
Interior Colors
Leather and cloth interiors, in six different colors, were used on the 1983 Corvette. For all 1983 pilot Corvette exterior/interior color combination totals, as well as information regarding 1983 Corvettes with RPO FE7 Gymkhana Suspension and RPO F51 Heavy Duty Shocks, go to the Articles page at www.allcorvettecolors.com.
Robert Casey, a long-time NCRS member, drives a 1997 Corvette in Fairway Green Metallic with Gray interior. Only 82 Corvettes were ever built with that color combination. How rare is your Corvette color? Find out in his series of books on Corvette colors, available at Amazon.com
For more Corvette facts, follow Robert on Twitter at @AllVetteColors

Source:
All Corvette Colors

Related:
[VIDEO] The National Corvette Museum Tells How the Only 1983 Corvette was Saved
National Corvette Museum Creates New Display for World's Only 1983 Corvette
Corvette's 1963 Fire-Frost Paint and 1971-72 Firemist Paint